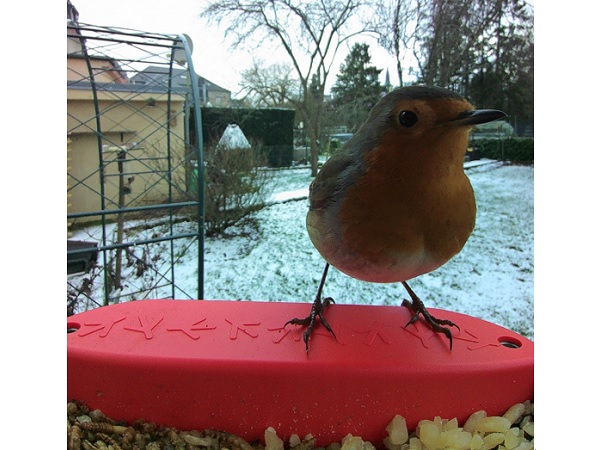 Having been interested in the outdoors from an early age, and having started "semi-retirement" recently, I have been trying to spend more time in the garden.
While I have particularly been active in fishing (primarily fly-fishing and some sea fishing when I get the opportunity; however, it's quite some time since I have been coarse fishing), it is the garden (also walking around the likes of Remerschen and other wetland areas) where I can enjoy seeing wildlife up close and on a regular basis.
Upon saying that, I have had several amazing wildlife encounters while fishing, from a basking shark and sunfish off Kinsale in Ireland to Bald Eagles off Vancouver Island, to crocodiles and elephants in and on the banks of the Cauvery River in India, and whale sharks, dugongs and hundreds of turtles around the Ningaloo reef in Western Australia, as well as echidnas, wombats and duck-billed platypus in Tasmania.
In the garden at home, instead of focusing on just a lawn, some shrubs and fruit trees, I put in some colour a couple of years ago by planting a number of flowering plants in the middles of one of the beds. I had also completely re-done the vegetable patch and put in a number of raised beds which have helped produce great crops; also, the greenhouse was installed in time for last year's growing season, although it still needs some finishing on the outside (paving, etc.). There is always something to do in the garden...
During the summer months, the window boxes of geraniums and petunias have welcomed many different bees; we have also seen a number of fascinating Hummingbird hawk moths hover over the flowers.
While each summer we have swifts nesting nearby and fly over our garden daily, with bats following at dusk, we have welcomed a variety of bird species over the years, from the more common sparrows (both house sparrows and tree sparrows), blue tits and great tits, robins, blackbirds, greenfinches and goldfinches, jays, starlings and ringed doves, to less frequent visitors including nuthatches, bullfinches, thrushes and black caps, not forgetting the "nuisance birds" including jackdaws and magpies.
During the pandemic, particularly when we were under lockdown, we saw a number of new visitors in the garden, including both Greater Crested Woodpeckers and Green Woodpeckers, as well as a juvenile falcon. We even had Egyptian Geese on the country lane just a couple of hundred metres from the house. We see the occasional buzzard flying overhead - they prefer the open fields for hunting, close to forests of trees; while assembling the greenhouse, we also saw a distinctive red kite overhead with its distinctive concave tail (buzzards can be distinguished by their convex tails).
I then constructed a basic bird table; very soon I was was focussing on hanging bird feeders from it rather than placing food on top; while it attracted a few jays from time to time, it was the jackdaws that caused a nuisance by firstly bullying other birds and then knocking down the bird feeders containing nuts (the only solution was to tie them on with wire). This was then attracting songbirds, including sparrows, tits and finches, with blackbirds and robins preferring to forage on the ground.
It soon became apparent which species preferred which foods - seed mixes (with / without sunflower seeds), nuts (whole or crushed), suet balls, etc. Then, when in Ireland a while back I spotted some nyger seeds, so I got some - these are supposed to attract goldfinches.
A couple of years ago I saw a crowdfunding campaign for Bird Buddy - this was a new concept, based on a traditional bird table / feeder, with an integrated camera, linked by wifi and supported by AI including bird-recognition software. Almost two years later (they had a number of delays, some related to the pandemic and others related to integrating and testing both software and hardware) I received mine - all crowdfunding subscribers had received a regular series of emails updating us on current status, setback and breakthroughs. I then thought I would get it in time for Christmas, but that was not to be; however, it did arrive recently and I was able to install it successfully the following day, exactly two years to the day after initially subscribing. I had gone for the model with a solar panel (admittedly not much use in Luxembourg at present) and a standard mount - all I had to do was get a 2-metre pole and place it it a flower bed close to the dining room window so it would get a strong-enough wifi signal.
So, just a week later, and one firmware update and two battery charges later, I have received a number of "postcards" in the app on my mobile phone. These "postcards" contain a number of videos (normally each around 2 minutes long) and still photos, mostly with the correct species identification. So far, my "collection" comprises Great Tit, Eurasian Blue Tit and European Robin. I was delighted at the weekend when one notification indicated that I had a new visitor, identified as a Tufted Tit. Excited like a child, I was dismayed to see that it was just a Blue Tit having a bad hair day...
One of the best things about the Bird Buddy is not just the high-quality photos and videos that I can download and share, but the online community. I see that those involved range from very experienced twitchers to absolute novices, with some (particularly in North America) having to install bafflers to deter squirrels - some Bird Buddies pick up deer, mice and other creatures, as well as birds of prey perching nearby waiting on their next meal... Many new users / owners post photos of their first visitors, and unusual visitors too, with colourful photos getting many comments including, for example, a painted bunting, a red cardinal and a cross-billed woodpecker.
The online community is moderated which probably explains why there do not seem to be any negative remarks on it, although some posts do point out where improvements can be made: I suppose that where feedback, even criticism, is constructive, it will be allowed. One issue raised was battery life: for me, it currently needs charging twice/week.
While writing this, I just received another notification; another Blue Tit, but the clarity of this photo was not as good as others I already had, so I simply deleted it. This morning, over breakfast, I received a crystal-clear photo of a robin that had been up early feeding on the mealworms I put out (the tits prefer the nuts though).
One of the most frequent community critiques is that many birds approach the feeder from the side and therefore the quality of the photos and videos is not as good as it could be; a solution has been found so I have ordered side fencing and an extended perch in front. So, hopefully in a few days' time I will be able to install it and I'll be able to see if there is much of a difference.
So far I have seen that there is at least one other Bird Buddy in the Grand Duchy, and others in France, Belgium the Netherlands and Denmark, with those in the UK about to start receiving deliveries - the European dispatching is done from France, so extra paperwork was required now that the UK is outside the EU. I could spend hours trawling through posts from the US and Canada, as well as other countries - I'm eagerly awaiting Australia and Asia to come on board too - to see the birds they attract, to learn their successes and failures, and also to shar my own experiences.
Another point: with all the data they are collecting, the operators are building a massive database of birdlife and can publish demographics of different species within certain timelines. No doubt this will subsequently be used constructively, for monitoring numbers, conservation and other measures too.