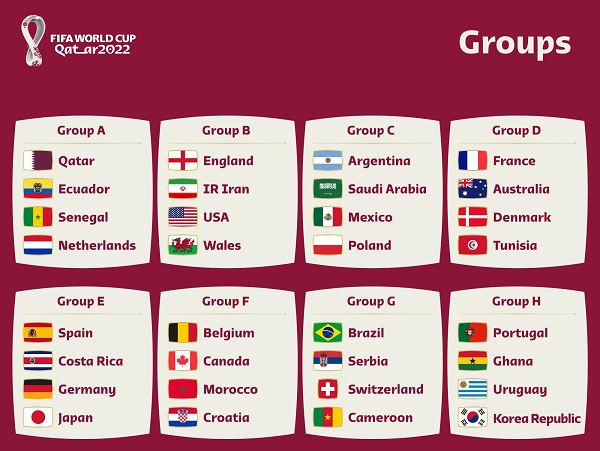 The World Cup starts tomorrow in Qatar; the 29-day tournament is officially named the FIFA World Cup Qatar 2022.
Held every four years (apart from 1942 and 1946 due to WWI and WWII respectively), this will be the 22nd tournament which was won for the first time in 1930 by Uruguay. South American teams (Uruguay, Brazil, Argentina) have won the tournament on nine occasions, with European teams (Italy, (West) Germany, Spain, France, England) triumphing on 12 occasions.
The winners used to follow a pattern of South American teams winning tournaments hosted in South America, and European teams winning tournaments hosted in Europe; however, this cycle was broken in 2014 when Germany were victorious in Brazil.
So who will win the tournament this time round? Certainly not 4-time champions Italy who have not qualified for the second world cup in a row and surprisingly so since they are the current UEFA European Champions after defeating England in the final. England themselves have the highest valued squad in the tournament and must have fancied their chances having performed so well in last year's European tournament; however, their recent form has not been good.
Two-time winners Argentina have been the form side going into the tournament, with Brazil (champions on no less than five occasions) never to be discounted. With this tournament being the first to be played in the Middle East and the heat a major factor to be overcome by the players, it is very much an open book as to which team will triumph on 18 December.
But what of the other European challengers? Past winners Germany, France and Spain have very strong squads and individual brilliance. Or could it be that another team will have it name inscribed on the trophy at the end of the tournament? The world had not yet had an African country win the tournament, so maybe this is their year? Or a (comparatively) dark horse such as Switzerland, Belgium or Denmark, or even Croatia (runners-up in 2018), the Netherlands (runners-up in 1974, 1978 and 2010) or Portugal?
From the 32 teams that have qualified, many will have aspirations of not only qualifying from their groups but going on the be undefeated through the knock-out stages. It really is one of the most open tournaments in decades.
The World Cup is a showcase for current stars such as Kylian Mbappe (France), Karim Benzema (France), Kevin de Bruyne (Belgium), Lionel Messi (Argentina), Robert Lewandowski (Poland), Neymar (Brazil), Luka Modric (Croatia) and Harry Kane (England); sadly, Senegal's Sadio Mané has been ruled out through injury so he will play no part. It also provides a platform for youngsters to emerge onto the world stage.
Split into eight groups of four teams *, each team will play three group games, with the top two in each group progressing to the knock-out stages which start on 3 December.
Group A: Qatar, Ecuador, Senegal, The Netherlands
Group B: England, Iran, USA, Wales
Group C: Argentina, Saudi Arabia, Mexico, Poland
Group D: France, Australia, Denmark, Tunisia
Group E: Spain, Costa Rica, Germany, Japan
Group F: Belgium, Canada, Morocco, Croatia
Group G: Brazil, Serbia, Switzerland, Cameroon
Group H: Portugal, Ghana, Uruguay, South Korea

However, in addition to the football itself, the political angle is one that cannot be overlooked. FIFA has come under severe criticism for awarding Qatar the rights to host the tournament, not only because of its small size (at 11,500 km2 it is just 5 times the size of Luxembourg) and low population (just under three million), but also its record on human rights. With homosexuality illegal in the country, as one example, some claim Qatar should never have been granted the hosting rights; others are saying that this is an opportunity to use the World Cup as a vehicle to highlight such issues and press for change. Another issue is that of worker's rights and the country's poor health and safety record, specifically during the construction of the eight stadia that will be used to host games during the tournament.
As a result, the political discourse surrounding this tournament is unlike that of any other such tournament previously; however, all players aspire to playing at the World Cup and will not give up such an opportunity.
Luxembourg has links with Qatar too. Around a decade ago, Qatar investments were made into the likes of BIL, Cargolux, KBL and Quintet Bank, with many of these changing hands since (some in favour of investment from China). And, in 2013, 24 year-old Lauren Patterson, an English teacher at a primary school in Doha, was brutally raped and murdered. She, and her mother Alison, had lived and worked here in the Grand Duchy, Lauren as a teaching assistant at St George's International School. Lauren's mother and her family have never received closure on their personal tragedy: a man was found guilty of the crime; however, his sentence of the death penalty was changed to just a jail term from which he is expected to be released next year. Lauren Patterson now has a school named after her in Uganda: set up by the Friends of St George's in 2016, there are currently 382 children enrolled in the primary school.
The teams and players will be competing on the world's stage: will you be watching?
* I have included my predictions of which teams will qualify for the knock-out stages. Groups B, G and H look the most difficult to predict...