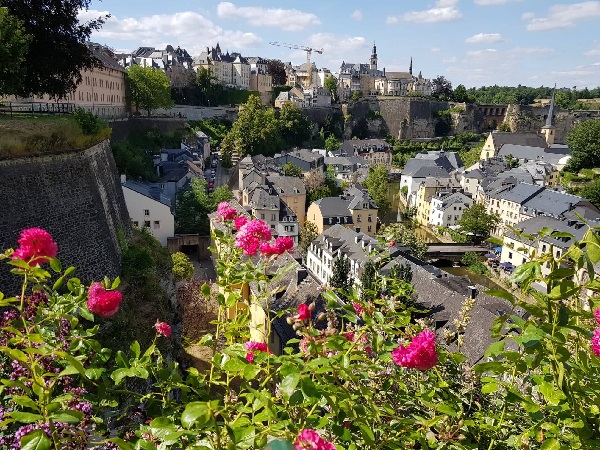 "Op de Rondellen" rose garden in Luxembourg-Ville; Credit: Jazmin Campbell
Luxembourg: Land of Love?
When I first arrived in the Grand Duchy just over five years ago, one of my first impressions of Luxembourg City was that it looked like some place out of a fairy tale. Later visits to the country's many castles, forests and the Moselle Valley confirmed my initial feeling that this small nation would not look out of place in a storybook. The fact that I met my own "Prince Charming" here certainly added to this feeling!
Of course, like anywhere, there are less "romantic" aspects of life in Luxembourg, namely the omnipresent traffic jams and building sites, as well as ever-increasing house prices, but in general, it certainly has its own special charm.
With this in mind and St Valentine's Day fast approaching, it seemed appropriate to look at some of the most romantic things to see and do in the Grand Duchy, specifically during February, the month of love… Note that a lot of the ideas included here can be fun or interesting even for those of you who may not "buy in" to this commercial holiday.
Hotel stays and weekend getaways
As well as an array of castles, Luxembourg is home to several hotels, with some, like Urspelt Castle, combining the best of both! The historic castle currently houses more than 50 4-star rooms and suites, two wellness centres with a sauna, spa and hammam, a private dining room, two lounges and three conference rooms... Popular among couples all year round, Urspelt Castle offers various special packages, particularly around Valentine's Day.
Other hotels are currently offering similar romantic packages, as well as special dining options. These include Alvisse Parc Hotel in Luxembourg-Dommeldange, Hôtel Le Royal and its Amelys restaurant in Luxembourg-Ville, Sofitel Luxembourg Le Grand Ducal and its Mu Luxembourg restaurant in Luxembourg-Bonnevoie, Melia Luxembourg in Luxembourg-Kirchberg, Novotel Luxembourg Centre and its Red Square restaurant and City Hotel Luxembourg – both located in Luxembourg-Gare.
Beyond the capital, couples can avail of special hotel and spa packages at Mondorf Domaine Thermal and Mondorf Parc Hotel in Mondorf-les-Bains, check out the special Valentine's Day menu offered at Manoir Kasselslay in Clervaux or spend a night or two at Le Clervaux Boutique & Design Hotel.
Note that CovidCheck rules apply, and some hotels (not those listed) in Luxembourg may even be closed as, apart from Valentine's Day, this is generally an off-peak period for the industry.
Dining out
In addition to the various Valentine dining options offered by hotels in Luxembourg, many restaurants will be serving romantic meals for two on this special occasion. Les Roses at Casino 2000 (Mondorf-les-Bains) has prepared a special Valentine's menu, with the help of head chef François Jagut. Likewise, Come à la Maison in Luxembourg-Hollerich recently unveiled its Valentine's Day menu, which starts with a "rainbow sushi" appetiser by Japanese chef F Catsuqui.
For people without partners, those looking for love or who wish to simply celebrate and enjoy a good meal with friends and / or family, certain restaurants are offering "Galentine's" (an occasion to celebrate female friendships) or "Singles" dining options. For instance, Lokaal, a plant-based restaurant in Luxembourg-Ville, is organising an "All Singles Brunch" on 20 February, in addition to its "Valentine's Brunch" this Sunday (13 February). And of course, there's nothing to stop two or more people from getting together and enjoying a so-called Valentine's meal among friends!
Cinema experiences and museum exhibitions
Lovebirds in Luxembourg can also celebrate this special day with a unique cinematic experience. For instance, Kinepolis Kirchberg is currently offering a special package which includes two tickets for a romantic film ("Death on the Nile" or "Marry Me"), pink popcorn, crémant and chocolates, among other themed items. Similarly, Kinoler cinema in Kahler is organising a special screening of "Marry Me", a romantic comedy starring Jennifer Lopez and Owen Wilson, on Monday 14 February 2022 at 20:00.
For those who would prefer to celebrate love at a museum, the National Museum of History and Art (Musée National d'Histoire et d'Art - MNHA) is organising a special Valentine's exhibition bringing together the portraits of husband and wife Adriaen and Maria van Leyden after 150 years of being separated on the art market...
Outdoors
Another unique Valentine's experience, particularly for lovers of the outdoors, is the "Love Promenade", a two-hour guided tour of the capital being organised by the Luxembourg City Tourist Office (LCTO) this Sunday (in English at 11:30).
Other possibilities include discovering different traditional and modern rose varieties from the Grand Duchy at the rose garden of Munsbach Castle or visiting the smaller "Op de Rondellen" rose garden and enjoying the view over Luxembourg City. After all, roses are a symbol of romance AND Luxembourg was once world-renowned for its rose cultivation. That being said, it may be best to wait until late-spring / early-summer for the roses to bloom!
Valentine's Day is also as good a time as any to visit Vianden Castle and explore the charming little town of the same name, check out Bourglinster Castle and go hiking in its surroundings, experience a wine tasting and / or a river cruise in the Moselle Valley or simply go on a bicycle tour or a forest walk and explore more of what Luxembourg has to offer.