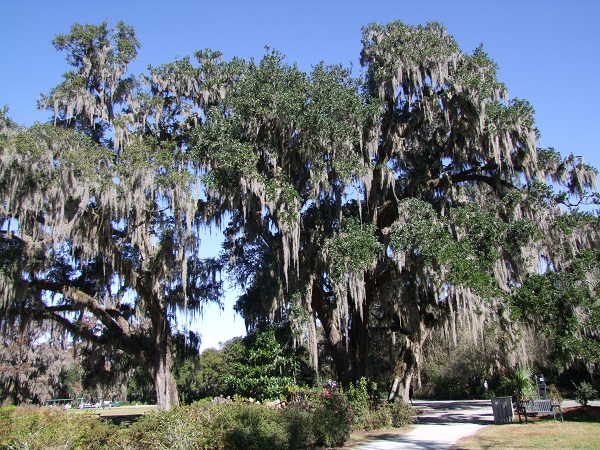 With long-haul travel starting to reopen, the US was in my sights, Charleston in South Carolina in particular.
With travel originally scheduled for April 2020, then put back to April 2021, then October 2021, both directly because of the COVID-19 pandemic and related travel restrictions, it was not until mid-November that we were eventually able to fly out. We had originally chosen spring time to travel as it gets very hot and humid in the summer (officially its climate is humid subtropical), and can get very wet during winter, but we were willing to forego any such preferences in the end, just to be able to get over. As it happened, the climate during our trip was ideal, with light rain overnight a couple of times, and jumpers required outdoors in early mornings and late evenings as daytime temperatures averaged 15-25C. The high humidity results in many things, for example moss growing in trees there, with oak and other varieties completely transformed with wispy trails of moss hanging from nearly every branch, resulting in the trees resembling cobweb-decorated trees for Hallowe'en, except that these are present all year round and give off an aura of romance instead of creepy vibes.
Nestled between Georgia and Florida to the south, and North Carolina and Virginia to the north, South Carolina is a hot and humid southern US coastal state that is home to around 5 million inhabitants, of whom around 800,000 live in Charleston and its sprawling suburbia, spread out from the banks of the Ashley River. The road network is extensive, with multi-laned highways and interstates; however, most are concrete surfaces, not tarmac, and potholes and uneven surfaces are regular motoring hazards.
The city of Charleston was founded in 1670; by 1690 it had become the 5th largest city in the USA. Its main significance in American history is that it became the largest slave trading port in the USA in the 18th century, with over 50% of just under 400,000 slaves from west Africa entering the USA through Charleston. Interestingly, just 4% of the 10 million slaves that survived the Atlantic crossing (12 million left Africa) ended up in the USA, with the majority going to Brasil as well as other countries in South America and the Caribbean. It is now know for its tourism.
The land is generally low-lying, with many rivers and water-ways separated by marshland with dense reeds and bull-rushes. This eco-system is a great breeding ground for alligators and there are all sorts of laws in place, including the obligation to report known sightings and post signs on one's land.
Settlers (a former term for economic migrants or expatriates) originally grew cotton and then tried to grow many different foods, eventually striking gold with rice. Many families made their fortune this way; however, once the buying / selling of slaves was abolished, costs rose and they became uneconomical.
The city centre is noted for its classical architecture which grew after much of the city needed to be rebuilt following a devastating fire in 1838, with Greek Revival and Gothic Revival architecture coming to the fore. Apart from tourism and filming destination for films and tv series, it has also garnered itself a reputation as a food destination, with varied influences giving rise to a cosmopolitan menu including southern spices, meat and fish.
With so much to see and do in and around Charleston, I have included a summary of the highlights.
Magnolia Plantation
Located in North Charleston and just one of the many plantations to visit, one can see over the family (colonial) home and take tours in the grounds, addressing the story and lives of slaves who worked and lived there, plus the gardens and wildlife (from herons, egrets and ibises to alligators and turtles) in the nature reserve.
Charleston Tea Plantation
A fascinating discovery with tours of the 40 acres under plantation and the processing plant where loose tea is also packaged (the tea bags are packaged in Ohio). Nowadays they have a purpose-built machine for harvesting (each plant is harvested every 4-6 weeks between April-October) requiring a crew of 5 people, compared to 150 people during slavery times.
Cypress Gardens
A wonderful and idyllic destination for walks around the garden trails and boat rides through the swamps; no wonder it was used for filming scenes from films such as The Notebook and tv series such as Outer Banks.
USS Yorktown
A permanently-moored aircraft carrier that was used in the Falklands War and Vietnam War, as well as for recovering the capsule from the Apollo 8 space mission. There are a number of self- and guided tours one can take, bringing you to the engine rooms, crew quarters and decks.
Myrtle Beach
Located an hour or so away along the coast to the north, as the name hints, Myrtle Beach is a beach destination with plenty to do, from amusement parks to water parks, a wonderful boardwalk and piers ($2 entrance; $12 if you want to fish). For those who do not like the high-rise hotels and apartment blocks, there are also Murrell's Inlet and Georgetown not far away with more boardwalks, far nicer architecture and wonderful restaurants.
Shem Creek
Home to Charleston's remaining shrimp fleet and picturesque waterways and arguably the prettiest boardwalk, with riverside restaurants and cafés with wonderful food, drink and great views.
Shopping, Food Tours
There are many outlet malls and other shopping malls, all with extensive parking outside, with a myriad of fast-food and other restaurants. Not to forget the old covered market in the city centre, which is very close to where most of the Food Tours (both informative and tasty) and other tours start and finish.
Fishing
While on the expensive side, the bay offers a multitude of fishing charters for inshore, nearshore and offshore fishing, with species such as flounder, black sea bass, red snapper, grouper and pelagic species further out.
A closing note on air travel: at present there remains a lot of gloom over the travel industry, long-haul flights in particular, with restrictions changing without much notice. As a direct result of the start of the pandemic, some direct routes (such as London Heathrow - Charleston) have been taken off airlines' offerings, at least for the moment. When these re-open (if at all) it will make travelling to destinations such as Charleston that much easier, instead of having to go through hubs such as Chicago, Boston, Newark or Philadelphia which are served by transatlantic routes by the likes of Lufthansa, KLM / Air France and United Airlines.