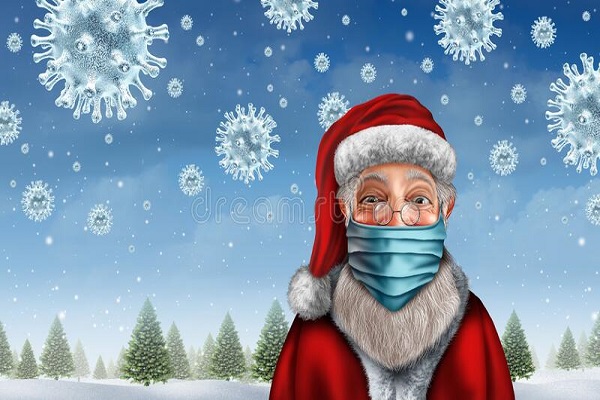 Well, we're currently in lockdown here in the North Pole, what with the COVID-19 pandemic and all that. We are all being tested regularly and we're lucky that there have been no confirmed infections to date.
We have finished production of all our toys so there is little we can do now except wait it out...
But it has been confirmed that restrictions here will be lifted in time to make my annual Christmas Eve dash around the world to deliver presents to all the children, so nobody has anything to worry about.
I will be wearing a mask and hand-sanitising between deliveries - I never leave the workshop without my hand-santa-tiser! My reindeer will be social distancing too: at the moment Rudolph has a runny nose, but the doctor has assured me that it's not COVID-19 and he will be well enough to travel. As I will be in my sleigh, I have been given special clearance so I do not have to self-isolate or self-quarantine.
I have also received air traffic control clearance to enter Luxembourg airspace, which is good news. Due to physical distancing, however, I am urging all children to go to bed early on Christmas Eve, so that we don't have any chance encounters when I drop by to deliver their presents. For hygiene reasons, I may also have to skip the cookies and milk this year, but I'm sure my waistline will thank me later...
I've been trying my best to make an appearance at various events in the lead up to Christmas, as well, but this year the number of such appearances have been severely curtailed and were only in locations where the restrictions allowed.
It may be a different Christmas this year but you can all rest easy knowing that Santa Claus is still comin' to town!
In the meantime, let's enjoy this festive period as best we can and, above all, stay safe!
Merry (almost) Christmas everyone or as I hear they say in Luxembourgish: Schéi Chrëschtdeeg!