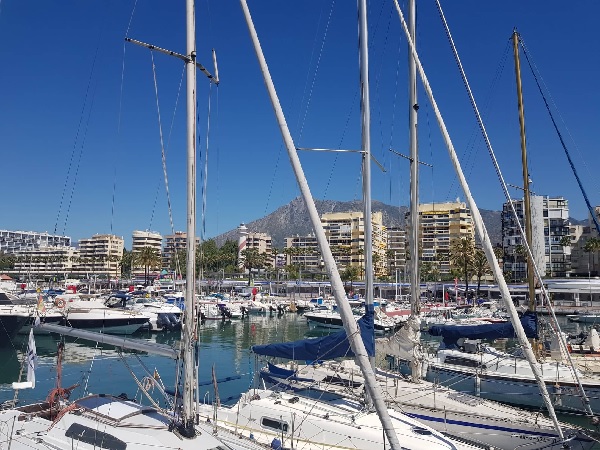 Marina in Marbella; Credit: Jazmin Campbell
Earlier this week, Luxair Tours invited members of the press from Luxembourg and the Greater Region on a two-day trip to the Costa del Sol in Spain. Aimed at promoting this region as a holiday destination for those living in and around the Grand Duchy, the trip featured the Andalusian cities of Marbella and Málaga, as well as the small village of Manilva.
The adventure started on Tuesday morning when a dozen journalists hopped on one of Luxair's five weekly direct flights from Luxembourg to Málaga, accompanied by the tour organisers, and in just under two-and-a-half hours we were in the sunny Costa del Sol (aptly named the "Sun Coast").
In addition to this being my first press trip as a journalist, this was also my first experience of an all-inclusive package holiday. As someone who is used to roughing it in youth hostels and happily flying with budget airlines with nothing but a small backpack, I wasn't sure what to expect. I just hoped that it would not be one of those trips where groups of tourists stay in their own bubble and ignore the local culture, language, traditions and history of their holiday destination.
Thankfully, this was not the case. Accompanied by our experienced local guide Francis, we had the opportunity to see both the traditional and the new face of the Costa del Sol, a region which has undergone huge changes in the past twenty years. Nowhere is this more evident than in the often-overlooked city of Málaga – a somewhat hidden gem in this ever-popular tourist region.
Landscape
The Costa del Sol, located in the southern Spanish autonomous community of Andalusia (think Flamenco, tapas and orange trees), comprises the coastal towns and cities of the Province of Málaga. Characterised by a mountainous landscape and a temperate Mediterranean climate all year round, the province typically experiences long, warm summers and short, mild winters with annual temperatures averaging around 18 degrees – making it a top alternative destination to the notoriously touristic Mallorca for a bit of winter sun.
The province, whose most populated cities are Málaga and Marbella,­­­­­ boasts both beautiful sandy beaches and ski opportunities in the nearby mountains and, whilst the area deserves a visit in its own right, its location also offers the opportunity to explore other nearby Andalusian cities such as Granada, Cordoba and the increasingly popular Ronda.
Marbella
Our trip began in the Province of Málaga's second most populated city: Marbella. Just over a half hour coach ride from Málaga airport and situated at the foothills of the Sierra Blanca mountain range, Marbella is known as one of the Costa del Sol's most popular tourist destinations. Having only seen the "St Tropez of Spain" through British reality TV shows (such as The Only Way is Essex), I will admit that I was initially slightly sceptical.
The visit started with a catamaran boat tour from the Port of Marbella to the privately-owned Puerto Banús. Along the 45-minute boat ride, we were treated to breath-taking views of clear Mediterranean waters set against the backdrop of the impressive Sierra Blanca mountains. As we pulled up at the marina of Puerto Banús, we were greeted by the sight of dozens of luxury yachts, sports cars (almost as many as in Luxembourg…) and shops from luxury fashion brands. Our guide also told us of nearby casinos, making it clear why this gorgeous marina is so popular with the rich and famous – unfortunately, I didn't spot any celebrities this time!
Following our return to the Port of Marbella, we had the chance to explore the more traditional old town with its cute cobbled streets and flowerpots before having lunch at a typical restaurant called Buenaventura. Indulging in Spanish wines and tapas such as Spanish omelette (tortilla española), fried vegetables (tempura) and blood sausage (morcilla), we left feeling satisfied and slightly more immersed in the local culture.
Manilva
After lunch, we travelled by coach to the small village of Manilva for a tour of the Nilva winery (bodega) where we learned about the different white wines produced in the region – like Luxembourg, Málaga is a wine region. The winery is a lovely little museum nestled in the hills of this traditional Andalusian village. All the information was provided in Spanish (translated into French by our trusted guide Francis), which only added to the authentic nature of our visit, away from mass tourism. The visit ended with a wine tasting on a wooden terrace on the hill overlooking the vineyards, the Mediterranean Sea and the magnificent mountains. The altitude meant there was also a welcome breeze to cool us down (by this time it had reached 35 degrees), even if my summer hat did threaten to fly off into the sea…
The first day ended with a first-class Spanish meal at the 5-star Sea Grill restaurant at Hotel Puente Romano in Marbella. The menu was indeed excellent: beautifully decorated cocktails, accompanied by Iberian ham, avocado salad and king crab leg as starters and a selection of fresh monkfish, Galician beef tenderloin and chicken tikka dishes as mains, to name but a few. Even more impressive than the food, however, was the setting. Located in the "Excellence" Hotel Puente Romano (one of Luxair Tour's partner hotels), the restaurant overlooks the hotel swimming pools on the one side and the beach on the other. Going there in the evening was magical. To get there, we had to walk through what seemed like a mini jungle with impressive trees, flowers, ponds and lights everywhere. Upon arrival, there was live music and the swimming pools were even lit up in alternating colours. Some of us ended our meal with a brief stroll down to the beach before heading back to our own 5-star luxury hotel.
Málaga
The second and last day of our trip to the Costa del Sol took us to the city of Málaga itself. We learned about the city's heritage as one of Spain's most industrial cities and how it turned to tourism when industrial activity came to an end. The city is now also working towards reducing road traffic and developing its metro network to make it an even more attractive tourist destination. I found Málaga to be even more beautiful and a lot less touristic than Marbella. The city gives off a more natural and therefore more charming vibe. Its streets are lined with beautiful jacaranda plants, little orange trees and terraces with flowerpots, the city centre leads right to the beach and its commercial avenues are a shopping lover's paradise.
As well as a guided tour through the city centre, including a browse through the local market, we had the chance to visit Andalusia's most visited museum: Museo Picasso, dedicated to the Málaga-born painter Pablo Picasso. Despite its current success, the museum's beginnings were troubled; discussed since the 1950s, development only began in the 1990s, mainly thanks to the efforts of Christine Picasso, the widow of Pablo Picasso's eldest son Paul, who died before he could see his dreams of the museum come to fruition. The Museo Picasso, which officially opened in 2003, showcases a range of Pablo Picasso's works from throughout his life.
Following the museum visit, we continued our gastronomic tour with a hearty seafood-based lunch at Los Mellizos, a restaurant chain run by actual fishers. There we had tasty flatfish, some little mussels (coquillas), fried squid (calamares), a paella-style rice-based dish and, of course, more wine.
A visit to the Cathedral and its unfinished rooftop – via some 200 steps – helped us walk off our lunch in the afternoon. There we indulged in some unrivalled panoramic views of Málaga before having some free time of our own to explore the city. As we regrouped to travel to the airport for our departure in the evening, we even had the chance to witness both a student-led climate strike and the shooting of a French film in the city centre – certainly not something you see every day!
Although sceptical at first at the idea of a package/group holiday, it was a really enjoyable experience that combined luxury travel with an authentic experience of our destination, its traditions and culture. It was certainly nice for a change to have experts tell me about the city and organise accommodation, meals and transport rather than trying to figure out everything on my own. On top of that, I got to meet some lovely people and had the chance to practise Spanish, French and Luxembourgish thanks to the diverse nature of our group.
Where to stay
Although we didn't spend much time there, we were put up in the beautiful Hotel Gran Meliá Don Pepe in Marbella. Located on the seafront leading to Don Pepe beach and just a 15 minute walk from Marbella's old town, this luxury five-star hotel offers its guests access to three outdoor swimming pools, a spa and a gym as well as rooms with sea, garden or mountain views (I was lucky enough to have a sea view) that are equipped with a TV, electronic safe, Wi-Fi and a mini-bar. We also got the chance to have an aperitif on the terrace of one of the penthouse suites overlooking the sea. In the morning, guests can indulge in a nutritious continental buffet-style breakfast or enjoy a drink at the poolside bar.
If you have the means (it would normally be a bit to expensive for my own budget), I would recommend splashing out on a night or two at the Hotel Gran Meliá Don Pepe. Otherwise, Luxair Tours has several other partner hotels across the Costa del Sol, including the equally luxurious Hotel Puente Romano, where we had dinner on the first night, or a range of slightly more affordable 4-star and 3-star establishments.
How to get there
In the summer season, between April and October, Luxair offers five direct flights per week between Luxembourg and Málaga. These run on Monday to Wednesday, Friday and Saturday.
In the winter season, from November to March, the airline operates two direct flights per week, on Tuesdays and Saturdays.
The flight normally takes around two hours and 40 minutes, unless you get unlucky as we did on the way back and have to land in Lille first due to stormy weather!