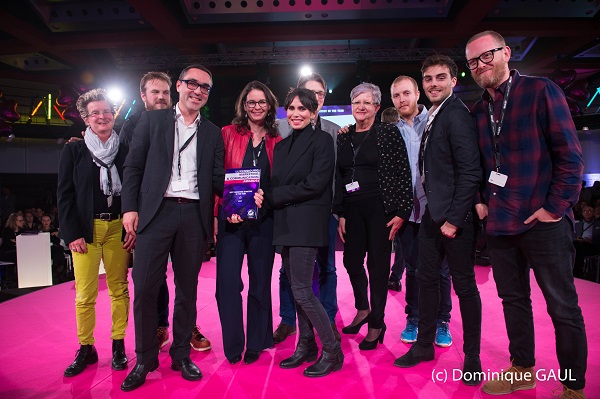 The CFL and its employees were accorded a special honour at the end of November: At the Luxembourg Marketing & Communication Awards 2017 in the Forum Geesseknäppchen in Luxembourg-Merl, the employer branding campaign "Our customers – Our Passion #myjob" received the prize for the best marketing strategy in 2017.
The CFL team present at the event proudly accepted the prize together with the agency WILI, which conceived the campaign and produced the corresponding video. The idea running through the campaign was to call attention to the variety of careers offered in the CFL Group and to present these professions to the public. The campaign is also to be considered as a thank-you to the employees in action every day for the CFL and, as a consequence, the best ambassadors for the company. It was their commitment alone which brought such success to the project.
Diverse occupational profiles and paths of life
Those who search for a definition of the term "employee" on the Internet will come across the usual explanations such as "an employee is a member of the workforce who is employed in an organisation as a blue or white-collar worker" (translated from the German language - Wikipedia). However, an employee is much more than a job-holder who works for a company and brings working power to the service of the company. Employees are people with a history, a biography, people with talent, an enthusiasm or capacity for enthusiasm for their occupation, which they chose at a certain point in their life. For some the course for taking up a profession was set more fortuitously, while others knew early on which profession was their heart's desire.
For example, some employees of the CFL Group decided on typical railway occupations, others more on administrative professions. Some prefer to work closely with customers, others to stay behind the scenes. Common to them all is that, thanks to their work and commitment, the customers of the CFL Group, be they train or bus passengers or even industrial customers, can use the services. The aim of the CFL Group was to present all this in its campaign "Our customers – Our Passion #myjob".
Personal contribution to success
Irrespective of what each individual contributes to the functioning of the "rail" system in passenger and freight services, each person is important by virtue of their daily work in their profession, and their teamwork is a prerequisite for the success of the company.