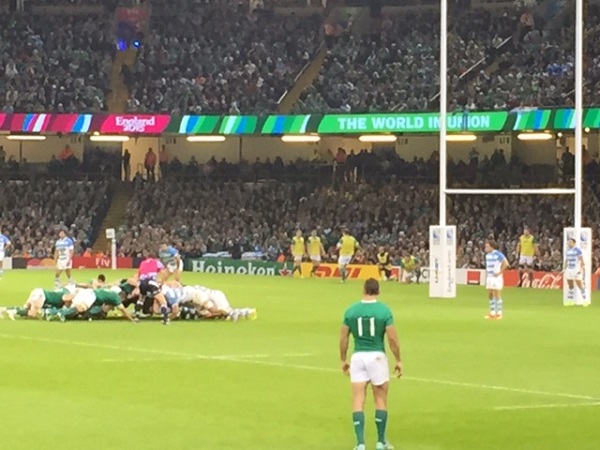 After a week's lull since the last of the pool games, it came down to just 8 teams left in the competition, with all four quarter-final matches pitching southern hemisphere teams against their northern hemisphere counterparts.
All eight remaining teams combined a mix of the walking wounded and those ruled of the competition due to injury, as well as being more battle-hardened than a month ago when the tournament kicked off, thus peaking for the business end of the tournament.
First up on quarter-finals week-end was Wales against South Africa in Twickenham. Despite their astonishing opening match defeat to Japan and losing significant and influential players due to injury, the Springboks have played very well in their games since. Wales have had their squad trimmed to the bare bones following injuries before and during the tournament, including during that astonishing win over England that helped send the host out of the tournament at the pool stages.
On Saturday, the two sides played an exciting game, with plenty of line breaks, up-and-under kicks, rolling mauls, crunching tackles and long penalty kicks - an open, expansive game of rugby that yielded the first try to Wales who, in turn, conceded far too many penalties to their opponents. A great game for the spectator, but not necessarily for the rugby purists as there were far too many mistakes in this end-to-end encounter. Half-time: 13-12 to Wales and all to play for in the second half.
With a drop-goal apiece either side of half time, there was hardly anything between these two sides in this pulsating encounter. The teams started to tire and it showed: South Africa's out-half Pollard missed a couple of penalties but were committed to passing and running with the ball, trying to prise open the Welsh defence.
But 5 minutes from time, the Springboks managed to breach the Welsh defence and touch down in the corner. The match was destined for a grandstand finale with South Africa having 4-point lead and they held on to the final whistle, 23-19. South Africa were through to a Rugby World Cup semi-final against the winners of Saturday evening's match between New Zealand and France in Cardiff. And Wales were out of the tournament.
The Welsh capital had been invaded by French and Kiwi supporters for the second game, as well as those from Wales who had not made it to Twickenham, plus a hoarde of Irish as an advance party for their Sunday afternoon game against Argentina. A mix of colour and languages filled the pubs, restaurants, cafés and hotels in Cardiff as the rugby supporters were eager to see the first quarter-final in advance as the one for which they had actual tickets.
Only one team with a haka left in the tournament, New Zealand, and the players performed it with even more passion than they had in the first game of their group, and arguably the most difficult, against Argentina. They changed it round too, from those performed prior to previous games in the tournament. And they changed their style of play too; they upped the intentity a number of notches and started - and ended - the match at breakneck speed. France were able to get on the scoreline with two penalties and a converted try, but it was the All Blacks who blasted through a weary France team, managing to score no less than four tries in the first half, three involving searing breaks and clinical finishing by the wingers, with one following a knock-down. Half-time 29-13 for New Zealand. Surely there could be no fairy-tale ending for France - they would need to score 17 points more than the All Blacks in the second half...
It was not to be for France; in fact they were on the end of a hiding never before witnessed at a Rugby World cup quarter-final. And New Zealand score more against France than they had in all their pool games; ignomy indeed for Les Bleus. Arguably one mitigating factor was their out-half Frederic Michalak, leaving the field in the 11th minute with a hamstring injury. Try as they could, they were no match for the New Zealanders who blasted away the opposition like they were schoolboys to record a record 62-13 win, setting up a semi-final with fellow Southern hemisphere team, South Africa. In total they scored no less than 9 tries, 6 of which were converted by Daniel Carter, with wing Julian Savea touching down three times for a hat-trick. Not bad for a time to click into gear!
Interestingly, one of the loudest noises in the stadium all afternoon was a rendition of The Fields of Athenry, by the Irish supporters in town for Sunday lunchtime's match against Argentina.
Third up was Sunday afternoon's match in Cardiff between Argentina and Ireland. If not quite the Falklands War, Ireland and Argentina have had some rugby history between them, with the Pumas twice putting Ireland out at the Rugby World Cup quarter-finals stage. Both teams had played solidly during the pool stages, with Argentina losing just one game, their opener to New Zealand. They came into this game having defeated South Africa in the most recent Rugby Championship, while Ireland had won the two most recent 6 Nations Championships. Ireland also have the "Joe Schmidt" factor, with their coach arguably the best in the world, but had suffered a raft of injuries, including to their playmaker, out-half Johnny Sexton. So, two teams on the up, with a semi-final to play for.
Amongst a sea of green the match kicked off after referee Jerome Garces (France) blew the whistle. Ireland started slowly and Argentina flew out of the blocks, scoring two tries within the first ten minutes. Ireland lost wing Tommy Bowe to injury; Luke Fitzgerald replaced him on 12 minutes and 14 minutes later he crossed over after a lightning run down the left wing. A couple of penalties to each side and Argentina went into the break 20-10 ahead.
The Irish supporters were very vocal in their support, and sometimes the Argentinians too, with the closed roof amplifying every decibel. Ireland started the second half strongly with first-half substitute and try-scorer, Luke Fitzgerald, breaking through the Pumas' defence to put Jordi Murphy over the line. Ireland narrowed the gap to 3 points and were looking sharp. But Argentina upped the intensity of the play and ran out worthy winners with a 43-20 scoreline after 80 minutes. Ireland were visibly disappointed but did not play to their potential on the day, conceding 4 tries in total to Argentina.
Last up was Australia against Scotland and the last opportunity for a Northern hemisphere team to qualify for the Rugby World Cup semi-finals. Three down and one to go. Twickenham was the venue for a humdinger of a game which saw Australia seal the last semi-final spot thanks to a last-minute penalty to overcome the brave Scots 35-34 at the final whistle. While Australia scored three tries to one in the first half, they missed all three conversions and Scotland led 16-15 at the break.
In the second half the two sides traded scores and it looked like it could be Scotland's day when they touched down for a converted try with 5 minutes to go, but it was Australia's day when Foley slotted over a penalty to send the Wallabies into the last four and meet Argentina next week-end for a place in the final.
To travel to England, fly Luxair to LondonCity airport. See www.luxair.lu.
Tip: Upon arrival at LondonCity Airport, purchase / top-up an Oyster Card for use on the Docklands Light Railway (DLR) and London Underground. For intercity rail travel, book well in advance to get the best deals.
Photos by Geoff Thompson