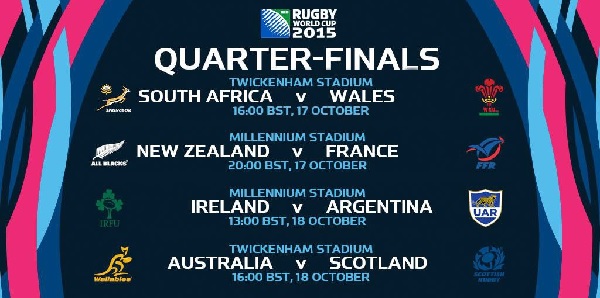 With 40 of the 48 matches now played at the Rugby World Cup 2015 in England, there are just 8 teams left in the competition; Over 1.8 million fans have attended the pool phase matches, of which 460,000 have travelled from overseas.
While Japan may have caused the biggest upset in Rugby World Cup history by defeating South Afica in the opening weekend, and have scored two other victories in the tournament group stages, they have not survived, with South Africa and Scotland going through at their expense. And the other big shock was the host nation, England, being eliminated after defeats to both Wales and Australia; one of these power houses of world rugby was always going to lose out with the three in the same group (Pool A) and only two going through.
It ultimately came down to teamwork and following the coach's game strategy. This was clear in both these encounters, but particularly so in the Wales-Australia decider. Austrlaia were conceding penalties when under severe attacking play from Wales and at one stage actuall had two players yellow-carded, i.e. off the pitch for 10 minutes each. This resulted in a period of over 7 minutes when Wales were two men up; but they could not breach the resolute Australian defence once in this period; such was the resolve of the Australians, the Welsh were never going to win that game.
The previous Wales-England game was another contest in point. At one stage in that game Wales had two players stretchered off and another appeared to have dislocated his shoulder and was helped from the pitch. Here, England should have gone for the jugular but they could not take advantsage of Wales' misfortune, particularly as the Principality's squad had lost the likes of Leigh Halfpenny, arguably the game's best full-back, even before the tournament started, with injury.
On Sunday, a similar fate befell France when up against Ireland who lost their captain, Paul O'Connell with a badly torn hamstring and talismanic out-half Jonny Sexton with another game-defining injury, and also Peter O'Mahony who was stretchered off with a knee ligament injury. Again, France should have been able to exploit Ireland's weakness, on paper at least, but again it was the team with the greater cohesion and will to win, that won the day.
It may be no coincdence that Ireland and Australia have the tournament's best defensive records, conceding just 35 points apiece. On the other end of the scale, Agrentina (179), New Zealand (174) and South Africa (176) have scored the most points in the pool stages.
The quarter-finals will take place this coming week-end, with both Twickenham and the Millenium Stadium hosting two games each:
- Sat (Twickenham): South Africa - Wales
- Sat (Millennium Stadium): New Zealand - France
- Sun (Millennium Stadium): Ireland - Argentina
- Sun (Twickenham): Australia - Scotland
On paper you would have to go with the four teams topping the groups, in emerging victorious to qualify for the semi-finals. But it is also worth noting that, apart from the 8 teams above, plus England, neither Italy or Japan have ever qualified for a Rugby World Cup quarter-final. The top teams are still the top teams, but at least once every four years some of the second tier nations do have a chance to play them and sometimes, just sometimes, the world sits up and takes notice. Just look at Japan.
To get to LondonCity, see www.luxair.lu.