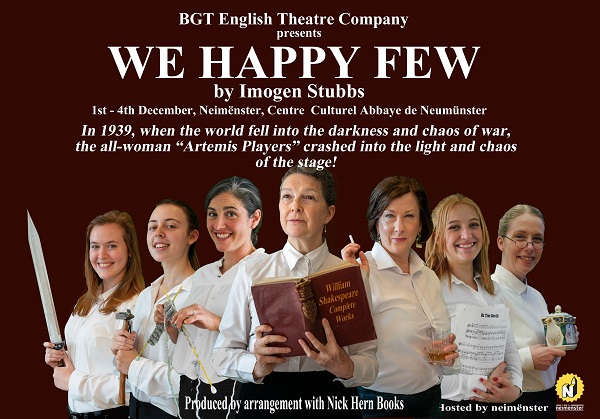 Details:
The Berliner Grundtheater has announced that, COVID-19 restrictions permitting, it will be returning to the stage in the autumn for two separate dramatic productions.
Firstly, BGT will be putting on three more performances of "The Road to Huntsville" on Friday 1 and Saturday 2 October, at the Kinoler again (38 rue Principale, Kahler - near Steinfort). According to Tony Kingston, Producer at BGT, "We decided to revive it because of the very positive feedback and several demands from audience to see it again. It will be interesting to see how it transfers to a smaller venue."
"The Road to Huntsville" is a one-woman show by Stephanie Ridings, performed by Lina Peller. Directed by Tony Kingston and Ferelith Kingston. "People fall in love ... for different reasons. I just happened to fall in love with a man on death row."
Using multi-media projections and video clips, this one-woman show looks at what makes some women so attracted to men of violence, even to killers. Through a mixture of factual presentation and the personal story a woman succumbing to the same attraction, it raises questions without making any judgements or imposing stereotypes. A moving, sometimes funny, but deeply thought-provoking play, it also provides an unusually powerful role for a young actress.
This is the third production in the BGT's programme to promote young performers and to put women more at the forefront of theatre.
Performances:
- Fri 1 Oct @ 20:00
- Sat 2 Oct @ 14:30, 20:00
Tickets €15 (students €10) from email: the.bgt.lux@gmail.com / tel: 262052-444.
Secondly BGT has a bigger show, "We Happy Few", playing at Neimënster (28 rue Münster, L-2160 Luxembourg-Grund) from Wednesday 1 to Saturday 4 December (5 performances). This play is based on the true story of an all-woman theatre company which toured Britain during the second world war. Directed by Tony Kingston, with June Lowery, Lindsay Wegleitner, Helena O'Hare, RachelKathryn Lloyd, Jessica Whiteley, Kim Birel, Gina Millington, Bjørn Clasen, Alessandro Stasi, Elke Murdock, Catriona Gillham, Eloïse Heger-Hedløy and Josie Shillito. Musical Director: Catriona Gillham.
Written in 2004 by the actress Imogen Stubbs, this heart-warming play tells the story of the "Artemis Players", an all-woman theatre company which challenged the male-dominated world of the 1940s to bring theatre to the furthest-flung parts of Britain. Led by the undaunted Hetty Oaks, this unlikely woman-only company - comprising amateur enthusiasts, a former star of the stage, a recent graduate of Central Drama school, an American maid and a tomboy more at home mending cars! - toured the length and breadth of the country performing the works of Shakespeare and other classics of the English stage. Swinging from hilarious chaos to heart breaking sadness, the play traces their story through its ups and downs, its successes and failures, its laughs and its tears. Based on the real, but now largely-forgotten, "Osiris Players" the play is a celebration of both the indefatigable energy of these single-minded women and of the joys, frustrations and general madness of a life in theatre.
Performances:
- Wed 1 Dec - Fri 3 Dec @ 19:30
- Sat 4 Dec @ 14:30, 19:30
Tickets €20 (students €12) from www.neimenster.lu or tel: 262052-444.
The Berliner Grundtheater e.V. (BGT) was founded in Berlin in 1991 and is dedicated to producing a wide range of English-language plays, while integrating players of different nationalities. In addition to playing many seasons in Berlin, the company has also performed at the Edinburgh Fringe Festival and at Anglo-German Festivals in Germany, and is now based permanently in Luxembourg.
Venue: Neimënster (28 rue Münster, L-2160 Luxembourg-Grund)
Organiser: The Berliner Grundtheater (BGT)
Price: Tickets €20 (students €12)
Reservations: see above