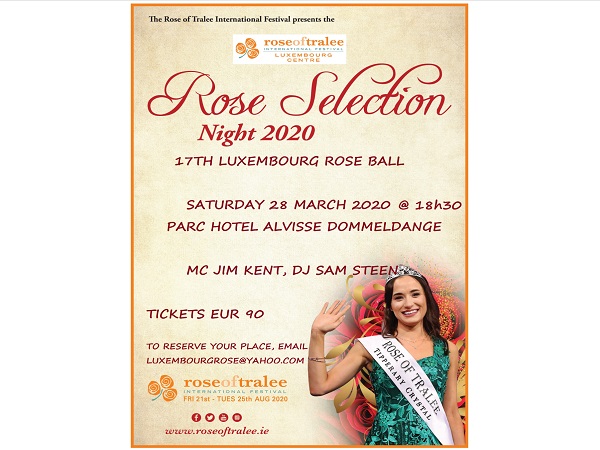 Details:
The Rose of Tralee International Festival - Luxembourg Centre is organising its 2020 Rose Ball on Saturday 28 March 2020 at 18:30 at the Alvisse Parc Hotel in Luxembourg-Dommeldange: POSTPONED TO JUNE.
Twelve Roses (a new record for the centre) will be vying for the title of Luxembourg Rose 2020, with the winning Rose being crowned at the Rose Ball. The winner will then represent Luxembourg at the Rose of Tralee International Festival which will take place from Friday 21 August to Tuesday 25 August 2020 in Tralee in Ireland.
Those wishing to attend the upcoming Luxembourg Rose Ball can purchase tickets for €90 per person. The ticket includes a pre-dinner reception, three-course meal with drinks, the Rose selection and a disco until 03:00. The event will be hosted by Master of Ceremonies Jim Kent, alongside DJ Sam Steen. As well as entertainment, there will be a tombola and of course, the crowning of the 2020 Luxembourg Rose.
To reserve a ticket for the Rose Ball, email luxembourgrose@yahoo.com, specifying if you have any special dietary requirements. Payment must be made before the Rose Ball.
Guests wishing to stay overnight in the Alvisse Parc Hotel for the Rose Ball can benefit from special rates.
Venue: Alvisse Parc Hotel Dommeldange
Organiser: Rose of Tralee International Festival - Luxembourg Centre
Price: See above
Reservations: See above