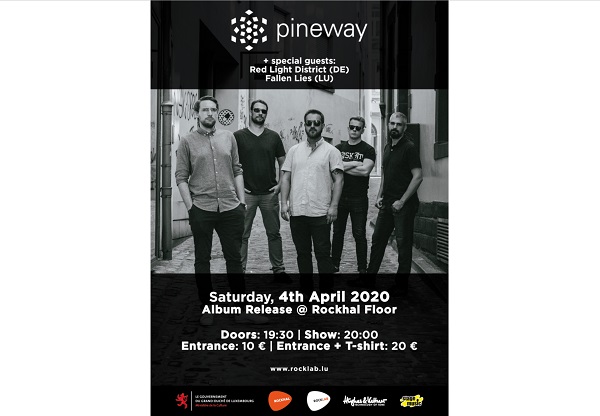 Details:
Luxembourgish band Pineway is releasing its debut album "Shift" with a live show at the Rockhal in Esch-Belval on Saturday 4 April 2020 at 20:00 (doors open at 19:30): POSTPONED (DATE TBC).
On this occasion, Pineway will lead a show supported by German hard rock band Red Light District and Luxembourgish alternative rock band Fallen Lies.
Pineway has been active since late 2016, having played on stage at bars and clubs in the Greater Region. Most recently, on 8 February 2020, they performed at the charity event MooFest at the Rockhal. The band is composed of Ramon on vocals (Silent View, Retrace My Fragments), Claudio on guitar, Andy on bass (Silent View, Everwaiting Serenade, Retrace My Fragments, Falling Serenade), Christian on keys and Chris on drums (Bermudadreieck, Dustin Dooley).
Pineway's music is grounded in rough synth sounds, grunge-rooted guitars, dreamy piano melodies and hammering bass lines. The songs in "Shift" investigate the dualistic human nature, inner fights and struggles, but also self-reflection, lessons learned, evolution and, finally, the possibility of a metamorphosis that could lead to another state of being.
Entry costs €10 at the box office. Further details about the show are available at https://www.rockhal.lu/de/agenda/rock-pop/show/detail/pineway/.
Venue: Rockhal Floor, Esch-Belval
Organiser: Rockhal
Price: See above
Reservations: Box office