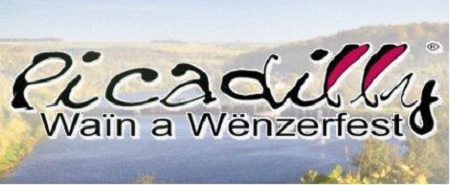 Details:
Organised by the Syndicat d'Initiative et du Tourisme Stadtbredimus, the 2018 Picadilly is being held from Friday 10 to Sunday 12 August 2018.
The event is sponsored by Poll Fabaire (wines) and others. With the organisers laying on a shuttle bus service linking various neighbouring villages, as well as a line-up of live music on all three evenings, the event promises to live up to its reputation!
The wine festival also features the popular Picadilly drink.
Venue: Stadtbredimus
Organiser: Syndicat d'Initiative et du Tourisme Stadtbredimus
Price: n/a
Reservations: n/a
URL: For details, see For further information, see www.visitluxembourg.com, www.stadtbredimus.info or www.picadilly.lu​