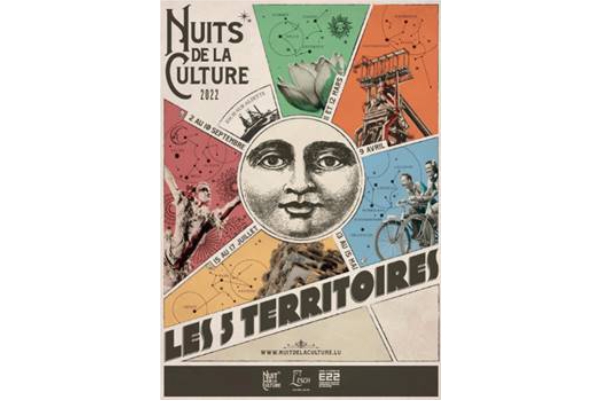 Details:
Five "Culture Nights" (Nuits de la Culture), divided into five themes across five different places in Esch-sur-Alzette, are taking place on 11 and 12 March, 9 April, 13 to 15 May, 15 to 17 July and 2 to 10 September 2022 as part of Esch2022 - European Capital of Culture.
The first of the five themes, called "Wild" (sauvage), will take place on Friday 11 and Saturday 12 March 2022 at Parc du Clair-Chêne in Esch-sur-Alzette. The natural surroundings will be transformed into a place of light and will give the impression of a magical garden.
Simultaneous concerts, performances, exhibitions and other artistic events will take place at Place Multisports (Rue Marie Muller-Tesch). An art walk will take place at Galerie d'art Kamellebuttek (Rue Marcel Reuland) and there will be public installations by Kamellebuttek Art Gallery on Rue Marcel Reuland and Rue Michel Lentz and Lycée Guillaume Kroll (Rue Henri Koch).
The "Culture Nights" are imagined to change the city and take an opposite view of what is expected in Esch-sur-Alzette from an ordinary night, to explore the neighbourhood, meet people, play at surprising hours, combine various artistic disciplines, visit unusual places and thus make the city a playground.
The five creative places are as follows:
Al-Esch, Brill and Uecht;
Sommet, Bruch, Zaepert and Fettmeth;
Lalleng, Schlassgoard, Lankelz, Wobrecken, Dellheicht;
Neiduerf, Park, Grenz;
University, Raemerich, and Belval.
Details of the events and other practical information are available online: https://nuitdelaculture.lu.
Venue: Esch-sur-Alzette, various venues, see above
Organiser: Esch-sur-Alzette, Esch2022
Price: n/a
Reservations: n/a