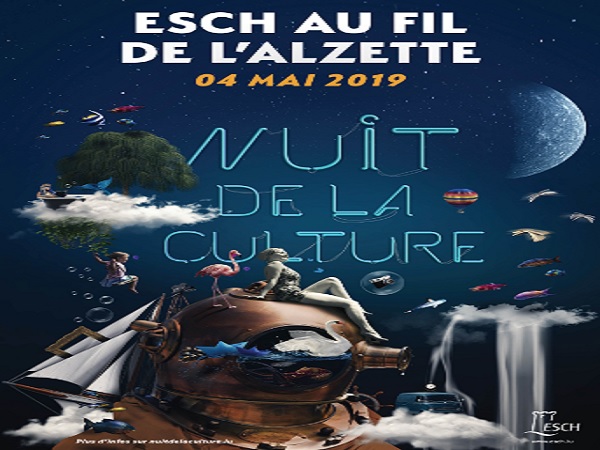 Details:
The 8th edition of the Nuit de la Culture in Esch-sur-Alzette will take place on Saturday 14 September 2019.
This May, Nuit de la Culture will once again see the whole of Esch city mobilise around the theme of water, called "Over the Alzette" ("Au fil de l'Alzette").
The participation of residents, shopowners and other passers-by is an integral part of the Nuit de la Culture, which brings together and animates the different communities of Esch and its region. It is in this context that the Nuit de la Culture has launched a call for participants. These can be individuals or a group willing to take part in the parade, amateur photographers passionate about the Alzette and other rivers, collectors of objects related to the sea, swimming, boats, etc. or singers in Luxembourgish, Portuguese or Cape Verdean.
With the help of schools, workshops will be set up for children to highlight all the rivers and islands of the countries of the world, write stories with authors, prepare maps with graphic designers and draw rivers. Those living in downtown Esch and traders can similarly help by allowing artwork on their windows and exhibiting related objects or works.
To participate or for further information, contact
emmanuel.vinchon@numericable.fr
from Department of Culture (Maison Mousset, 163 rue de Luxembourg, Esch-sur-Alzette.
Venue: Esch-sur-Alzette
Organiser: Esch-sur-Alzette
Price: Free
Reservations: n/a