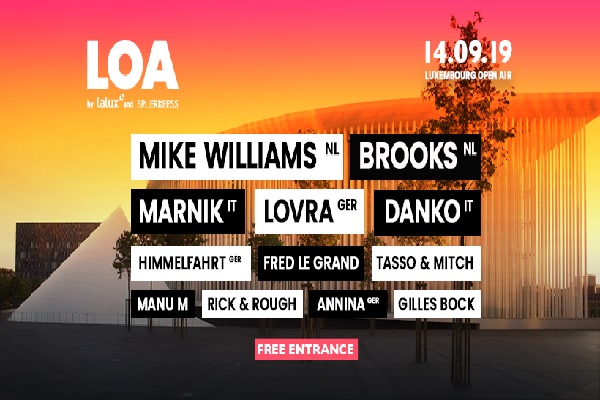 Details:
LALUX Assurances and the Banque et Caisse d'Épargne de l'État (BCEE/Spuerkeess) will be hosting the very first Luxembourg Open Air (LOA) Festival on Saturday 14 September 2019 from 11:00 to 23:00 in Place de l'Europe in Luxembourg-Kirchberg.
The LOA is a one-day music festival in Luxembourg-City aimed at bringing a new musical experience to the Grand Duchy. For this first edition, twelve local and international artists will perform a mix of genres, from Deep House and Tech House to EDM music.
Headlining the event will be Dutch DJs Mike Williams and Brooks (house music), Italian duo Marnik (dance/electronic), German DJ and producer LOVRA (house), 17-year-old Italian DJ and producer DANKO (EDM) and German techno band Himmelfahrt.
This free event will feature a wide range of bars offering gin, cocktails (and mocktails), beer and soft drinks, a food village with food trucks (food, ice cream, coffee...) and a chill out area to relax and cool down. There will also be a number of surprises.
For further information, see https://loa-festival.com/ or https://www.facebook.com/events/2591337190887496/.
Venue: Place de l'Europe, Luxembourg-Kirchberg
Organiser: LOA; LALUX; Spuerkeess
Price: Free
Reservations: n(a