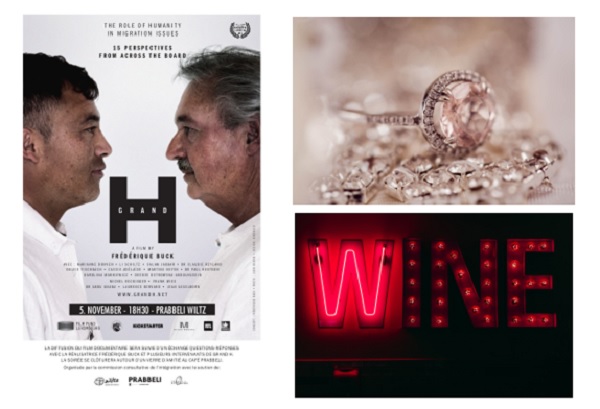 Details:
Cooperations asbl has announced three separate cultural events for November to be held at the Prabelli in Wiltz (8 Gruberbeerig).
- Monday 5 November 2018 @ 1830 screening of "Grand H" film and subsequent round-table discussion
Two years after what is commonly called "the migration crisis", Grand H (for Great Humanity) addresses the conflict between migration policy and Humanity as a question. Documentary-filmed, Grand H thus gives the floor to a whole series of stakeholders concerned by or working on issues related to migration. The documentary is followed by a question-and-answer session with director Frédérique Buck and several Grand H speakers, including Jean Asselborn, Minister of Immigration and Asylum. The evening will end with a drink of friendship at Café Prabbeli, offered by the municipality of Wiltz. The event is organised by the Advisory Commission for the Integration of the Municipality of WIltz, the Oasis Foyer and the Prabbeli Socio-Cultural Center. Free entry.
- Friday 16 November @ 1700-2030 and Saturday 17 November 2018 @ 1000-1700 Goldsmith workshop
Instructor Diana Prokot will guide you on the way to completing a personal gem. Whether opulent or simple - the goldsmith's course includes creative design as well as the manual work with different techniques and materials. Both beginners and advanced students can learn and deepen basic techniques such as sawing, filing, soldering, bending and forging. Gold, silver, copper and brass are available as well as a selection of gemstones in smaller quantities (precious metals and gems are extra). Course participants are also invited to bring their own materials if they would like to complete their individual piece of jewellery. See www.dianaprokot.de. Cost €80 - reservations to Prabelli (see below)
- Saturday 24 November 2018 @ 1600-1900 Wine Tasting gastronomy event
Welcome to the second wine tasting at Prabbeli. The company "Winebrations" from Luxembourg will introduce its new product range. Wine experts Luc Bredemus, Kevin Rohmer and Sven Barthel pursue their passion according to the motto "Wines from natural vines with good vibes". The three young entrepreneurs sell only wines that were produced as naturally as possible - accordingly, the range consists exclusively of organic, natural and terroir wines. In the selection process, the typicality and authenticity, the reflection of the origin as well as the elegance and the flow of the wines are of decisive importance to the wine merchants. The result can be seen or tasted every drop of their wines tastes genuine. The wine tasting is culinary with hearty regional products. Free admission.
For further information, see www.prabbeli.lu or tel 959205-1 (Mon-Fri, 1000-1200 & 1300-1800).
Venue: Prabelli in Wiltz (8 Gruberbeerig)
Organiser: Cooperations asbl
Price: see above
Reservations: see above