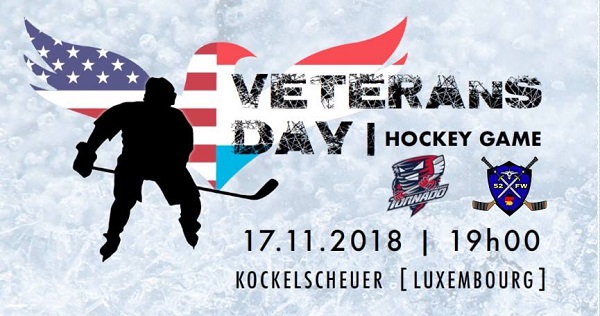 Details:
Following last year's huge success, Tornado Luxembourg has announced that it will host a new Veterans Day Ice Hockey Game in Luxembourg this year, at the Kockelscheuer Ice Rink on Saturday 17 November 2018 from 1900 to 2230.
The 2018 Veterans Day Hockey Game will take place to the support of the U.S. Embassy Luxembourg and the help of the Spangdahlem / Bitburg Ice Hockey team.
The game will see the Tornado Luxembourg Ice Hockey Club up against the Spangdahlem Air Base Varsity Ice Hockey Team. The event will begin with a small opening ceremony to honour all those young men and women who served their country, whether as firefighters, police officers or soldiers, through an exciting game of hockey.
Understanding the meaning of loyalty, duty, and team spirit, Tornado Luxembourg together with its faithful partners continues to consider this game as a great opportunity to strengthen the diplomatic relations between the United States and Luxembourg and to promote a sport that so many people, on both sides of the Atlantic, love dearly.
Tickets will be available on site during game day. You can also purchase your tickets in advance by coming to a Tornado home game. Tickets cost €8, with €3 per ticket going to charity. Children under 16 will be free. Food and drinks will be available for purchase. Free 24 hour parking will be accessible at P&R Kockelscheuer.
Venue: Kockelscheuer Ice Rink
Organiser: Tornado Luxembourg
Price: €8 (U16s free)
Reservations: see above