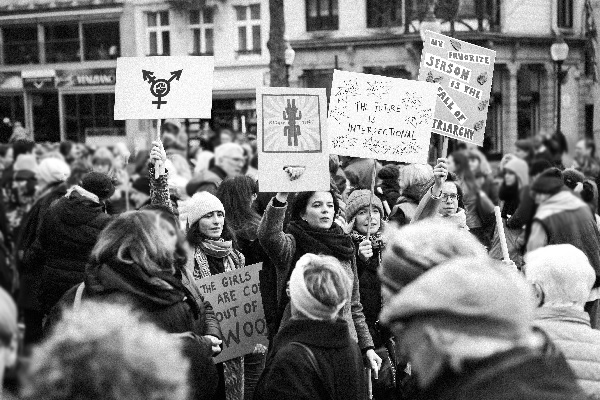 Details:
The Esch-based theatre collective, Independent Little Lies (ILL), will be putting on performances of its new creation "Footnotes" at the Esch-sur-Alzette Theatre on Thursday 14 and Friday 15 November 2019 at 20:00.
"Footnotes", which is in English with French surtitles, traces the initiatory journey of a woman through current and past feminist movements, between reality and fiction, listening and awareness. She discovers currents at the antipodes of this feminism presented as a scarecrow or a club curled up on itself: a feminism to reflect, to confront one's ideas... and to act. With this show, ILL takes a critical look at Western societies in which the struggle for equality is not yet over.
Script writer and actress Claire Thill and stage director Jenny Beacraft from the collective have described the intentions of the work as follows: "Footnotes takes us on a journey through a world of magical realism, elements of documentary theatre and absurd encounters that explore the tectonic shifts we are experiencing in relation to gender roles and how we see gender itself. With a great sense of humour it examines our insecurities, doubts and hypocrisies surrounding feminism and where we can go from here".
Moreover, in collaboration with the Esch-sur-Alzette Theatre, the municipal library of Esch-sur-Alzette, the Centre d'Information GAy et LEsbien – CIGALE and the CID Fraen an Gender, the ILL is organising a programme around the show, including a round table entitled "Feminism and (cultural) activism" ("Féminisme et activisme (culturel)") at Esch-sur-Alzette Theatre on Thursday 4 November at 19:00. The round table will be held in French and English (with simultaneous translation).
"Footnotes" lasts approximately 70 minutes. The premiere will be held on Thursday 4 November 2019 at 20:00, followed by a second performance the following day at 20:00. Further performances are scheduled for 10 December 2019 at the Théâtre National du Luxembourg (on the initiative of the Commission consultative des Droits de l'Homme) and again on 8 March 2020 at neimënster.
Tickets cost €16 - €20 or €8 - €9 for under-26s and can be purchased online at theatre.esch.lu, via email: reservation.theatre@villeesch.lu or via tel.: 2754-5010 or -5020.
Venue: Theatre of Esch-sur-Alzette
Organiser: Independent Little Lies (ILL)
Price: See above
Reservations: See above