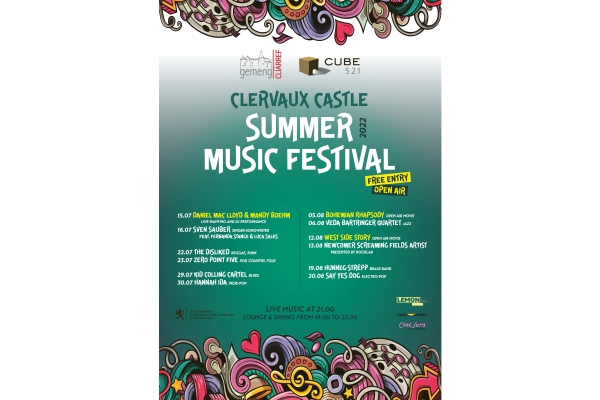 Details:
The first edition of the Clervaux Castle Summer Music Festival, an open-air music festival against the backdrop of the historic castle in Clervaux in the north of Luxembourg, will take place every Friday and Saturday from Friday 15 July to Saturday 20 August 2022.
Organised in collaboration between the city management of the municipality of Clervaux and the regional culture centre "Cube521" from Marnach, and with the financial support of Luxembourg's Ministry of Culture, this festival will offer a stage to young and promising artists from Luxembourg to bring their music and art closer to their audience.
For six consecutive weekends, diverse musical genres such as jazz, pop, country, electro, indie-pop, blues, folk, brass and reggae, will serve all music tastes. In addition to the concerts, open-air film screenings as well as a live painting event with music will be organised. Live performances start at 21:00.
Concert lineup:
Friday 15 July: Daniel Mac Lloyd & Mandy Boehm (live-painting and DJ performance)
Saturday 16 July: Sven Sauber (singer-songwriter, feat. Fernanda Stange & Luca Sales)
Friday 22 July: The Disliked (reggae and punk)
Saturday 23 July: Zero Point Five (folk, pop and country)
Friday 29 July: Kid Colling Cartel (blues)
Saturday 30 July: Hannah Ida (indie-pop)
Friday 5 August: Bohemian Rhapsody (open-air film screening)
Saturday 6 August: Veda Bartringer Quartet (jazz)
Friday 12 August: West Side Story (open-air film screening)
Saturday 13 August: Newcomer Screaming Fields Artist
Friday 19 August: Hunneg-Strëpp (brass band)
Saturday 20 August: Say Yes Dog (electro)
Admission is free and from 19:00, the local clubs will offer visitors drinks and small snacks made from local and regional products from the Robbesscheier restaurant in Munshausen.
Further information is available online via: www.clervaux.lu or www.cube521.lu
Venue: Clervaux Castle
Organiser: Municipality of Clervaux, Cube521
Price: Free
Reservations: n/a