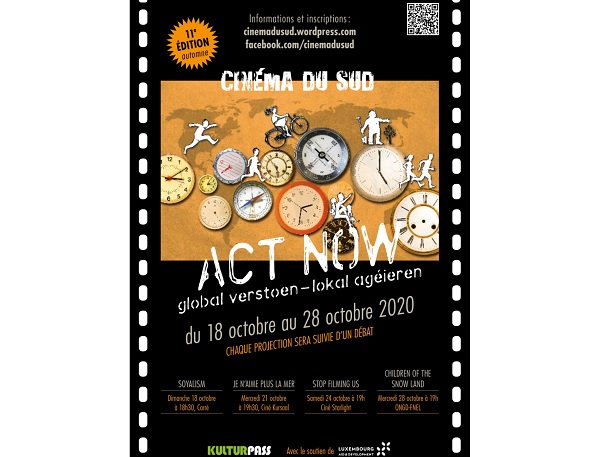 Details:
After this year's online summer edition, the Cinéma du Sud film festival will once again address current hot topics such as climate change, racism and global solidarity this autumn.
From 18 to 28 October 2020, four screenings will showcase issues around global food production, forced migration, prejudice and education. After each screening, organised in various locations across the country, viewers will be able to discuss their experience with the event organisers and guest speakers.
Throughout the festival, sixteen civil society organisations will promote a more holistic and critical view on the interconnections between citizens in a globalised world and call for a more sustainable way of life. The festival's goal, reflected in its slogan "Think global, Act local", is to encourage conscious behaviour in our daily lives, thinking social, economic and environmental sustainability on a global scale through local action.
This edition kicks off with a screening of "Soyalism" on Sunday 18 October at the "alternativen Liewensmëttel Maart" (alternative food market) during the Transition Days festival at the Carré in Luxembourg-Hollerich. The film shows how today's global food system is controlled by a select few multinational companies. Directly after the screening, the audience will be able to discuss these issues with local vegetable farmers as well as one of the directors.
Next up is a screening of "Je n'aime plus la mer" on Wednesday 21 October 2020 at the CinéKursaal in Rumelange. In this film, director Idriss Gabel gives a voice to children and their families who fled their home country from war, persecution and violence. The children recount their flight from their former homes to a refugee reception centre in Belgium, waiting for their refugee status to be acknowledged. After the screening, there will be a discussion with guest speakers who work with refugees about their situation in Luxembourg and in Europe.
Then, on Saturday 24 October 2020 at Ciné Starlight in Dudelange, the director of "Stop Filming Us", Joris Postema, will take spectators on a journey to Goma, a busy city in the Democratic Republic of Congo. In his film, Mr Postema follows Congolese filmmakers, journalists and photographers in their search for answers to questions of how Western media should change their approach to portraying the life, culture and people of Goma. A post-screening discussion with the director and the organisers will follow.
To finish this year's autumn edition, on Wednesday 28 October 2020, "Children of the Snow Land" (at the ONGD-FNEL offices in Luxembourg-Cents) will see spectators follow three adolescents on their journey home from Kathmandu to their native villages in the Himalaya mountains. Sent to the Nepalese capital to attend school when they were children, the three protagonists have not seen their families since. In the film, directors Bakfour and Stephenson highlight the contrast between tradition and modernity and the importance of both family and education. After the screening, experts will speak about their experiences with the education system in the Himalayas, alongside a small tasting of Nepalese culinary specialties.
The festival organisers are: Action Solidarité Tiers Monde (ASTM), Aide à l'Enfance de l'Inde et du Népal (AEIN), Aide internationale de la Croix-Rouge luxembourgeoise, Les Amis du Tibet Luxembourg, Comité pour une Paix Juste au Proche Orient (CPJPO), Fondation Chrëschte mam Sahel, Fondation Follereau, Fondation Partage Luxembourg, Frères des Hommes, Iles de Paix, Kindernothilfe Luxembourg, Klima-Bündnis Lëtzebuerg, Lëtz Rise Up, ONGD-FNEL, SOS Faim and SOS Villages d'Enfants Monde.
National sanitary measures will be respected and entrance is free, although registration is mandatory via Eventbrite: https://www.eventbrite.com/o/festival-cinema-du-sud-31263578785.
More information about the festival and the registration process is available on https://cinemadusud.wordpress.com/ and the festival's Facebook page.
Venue: Across Luxembourg
Organiser: See above
Price: Free
Reservations: See above