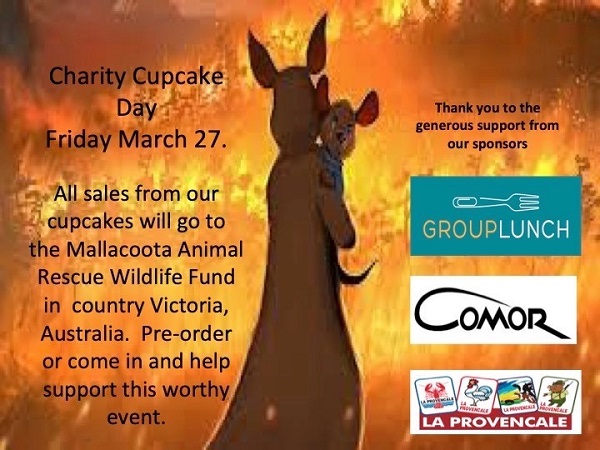 Details:
Luxembourg pastry shop Kathy's Deli & Cupcakery is organising a charity event to support animal rescue efforts in Australia on Friday 27 March 2020.
After the devastation caused by the Australian bushfires, Kathy's Deli & Cupcakery has decided to hold a "Charity Cupcake Day" to raise money for an animal rescue charity in Mallacoota. The pastry shop hopes to sell 500 cupcakes at its upcoming charity event to reach its goal of €2,000. All profits will go to the Mallacoota Animal Rescue Wildlife Fund in Victoria, Australia.
Pre-orders are welcome and cupcakes will also be available for delivery via GroupLunch.
To support this charity event, La Provencale and Comor have donated products while GroupLunch has donated the delivery fee.
Friday Opening hours: 08:00 - 17:00
Venue: Kathy's Deli & Cupcakery (9 Rue de Strasbourg, L-2561 Luxembourg)
Organiser: Kathy's Deli & Cupcakery
Price: n/a
Reservations: n/a