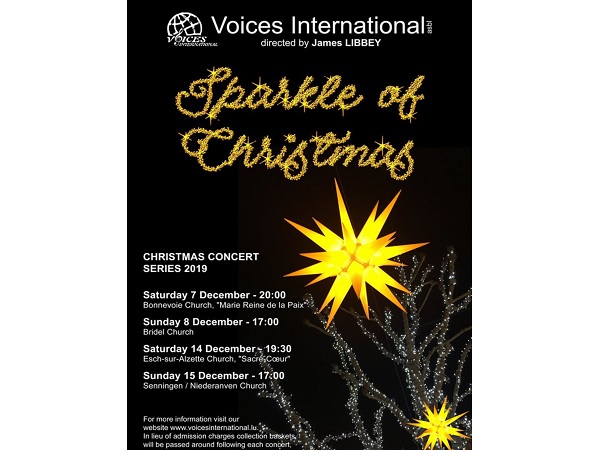 Details:
Voices International's singers and musicians will present their brand-new repertoire of songs in the form of four "Sparkle of Christmas" concerts, to be performed in mid-December at various venues in Luxembourg.
This season, Voices International has 25 different nationalities represented in the choir, who are singing songs from around the world.
Christmas Concert Series 2019 - Sparkle of Christmas:
- Saturday 7 December @ 20:00 @ Bonnevoie "Marie Reine de la Paix" Church (1 Place Léon XIII, L-1929 Luxembourg-Bonnevoie)
- Sunday 8 December @ 17:00 @ Bridel Church (16 Rue Nicolas Goedert, L-8133 Bridel)
- Saturday 14 December @ 19:30 @ Esch-sur-Alzette "Sacré-Coeur" Church (77 Rue Zénon Bernard, L-4030 Esch-sur-Alzette)
- Sunday 15 December @ 17:00 @ Senningen / Niederanven Church (Route de Trèves, L-6960 Senningen)
In lieu of admission charges, collection baskets will be passed around following each concert, with proceeds to be donated to children's charities.
For more information, see www.voicesinternational.lu.
Venue: Esch-sur-Alzette "Sacré-Coeur" Church (77 Rue Zénon Bernard, L-4030 Esch-sur-Alzette)
Organiser: Voices International
Price: See above
Reservations: n/a