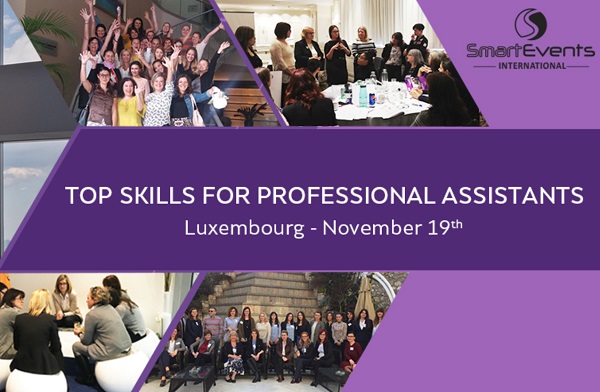 Details:
Smart Events International will be holding the masterclass "Top Skills For Professional Assistants" on 19 November 2019 from 09:30 to 17:00 at Park Inn by Radisson Luxembourg City.
Rhonda Scharf, a world-recognised professional speaker, Personal Assistant/Executive Assistant (PE/EA) trainer and author, will lead this workshop for Executive Assistants, Business Managers and Administrative Professionals.
Throughout the day, participants will learn how to project professional credibility, command authority and presence, communicate with impact, plan, organise and control their workload, build personal power and improve office teamwork, among other things.
A special summer fee of €319 is available before 15 August 2019. The early booking fee is €369, whilst the regular fee is €449 for the masterclass. Included in the price are the participation fee, the training manual, lunch and refreshments and a certificate.
For further information, see https://smartevents.mk/top-skills-for-professional-assistants-2019-luxembourg/.
Venue: Park Inn by Radisson Luxembourg City
Organiser: Smart Events International
Price: See above
Reservations: See above