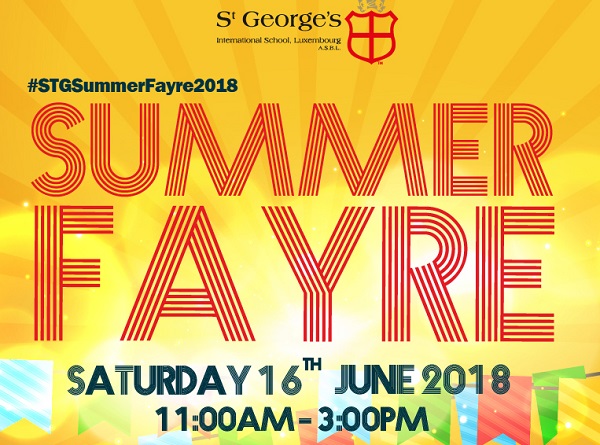 Details:
St George's International School in Luxembourg-Hamm will host their upcoming Summer Fayre on Saturday 15 June 2019 from 11:00 to 15:00 at their school campus.
British Ambassador to Luxembourg John Marshall will officially open the event at 11:00.
Dozens of national stands will be set up around the campus area, each reflecting the diverse culture and tastes of their international community. The auditorium will be used for performances of dance club, choirs and music from students.
The Summer Fayre will also have a bouncy castle, face painting, pony rides, a tombola raffle and many other fun activities for all the family. Food truck, drinks and afternoon tea (from the British stand) as well as tasty items from the other international stands will also keep visitors fed and watered.
The event will raise funds for charity; this year the school is sponsoring Kreibskrank Kanner Luxembourg, Greepeace Luxembourg and Lauren Patterson School, Uganda.
Friends, family and wider community are all welcome to attend.
Entry will be via Gate 2. Visitors will have to pay an entry fee.
Venue: St George's International School in Luxembourg-Hamm
Organiser: St George's International School
Price: €5 per person (free entrance for children under the age of 3)
Reservations: n/a. Tickets can be bought on the day.