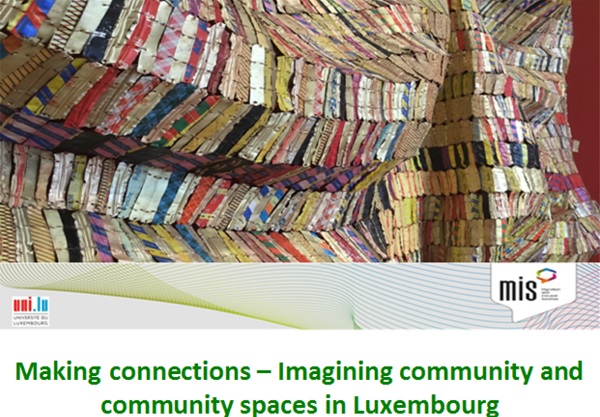 Details:
The University of Luxembourg will be hosting a creative workshop on the topic of community spaces, at its Belval campus (Maison des Sciences Humaines) on Saturday 15 June 2019 from 11:00 to 15:30.
The goal of this discovery workshop is to collectively and creatively think about the question "How to imagine our communities and community spaces in Luxembourg?". This meeting aims to foster dialogue between community associations and to establish links between members of different communities, from volunteers to researchers and students.
The event targets community members and leaders, those belonging to (or wanting to join) a cultural association in Luxembourg, researchers and students.
Lunch will be provided (offered by the working group "Migration and Inclusive Societies" of the Faculty of Arts, Humanities, Arts, and Sciences of Language Education at the University of Luxembourg) and costs for public transportation (within Luxembourg) will be reimbursed upon request.
The programme of the day will include a discovery walk on campus, lunch and a gallery walk providing opportunity to share, talk and connect and a creative workshop in small groups (up to 5 people per group) in which participants are invited to design their ideal community space.
Participants are asked to bring one small object that tells something about them as a person, as well as three print outs (A4) of photographs showing an item that represents community for them, a space in which they feel comfortable and an activity they would like to see happening in a community space. Individuals running or involved in a community organisation are invited to bring promotional material they would like to share, whilst researchers/students interested in related topics should bring a poster explaining some of the issues they are exploring in their research.
Building upon this event, the organisers aim to set up a Multicultural Centre in Luxembourg as a platform of exchange for the various cultural associations throughout Luxembourg.
Places for this free workshop are limited and will be allocated on a first come, first serve basis. Those interesting in taking part should register before 3 June 2019 at: http://ulsurvey.uni.lu/index.php/762567?lang=en.
For further information, contact Roberto Gómez Fernández via email: roberto.gomezfernandez@men.lu.
Venue: Maison des Sciences Humaines, Belval Campus (University of Luxembourg)
Organiser: Gabriele Budach and Roberto Gómez Fernández, Uni.lu
Price: Free
Reservations: See above