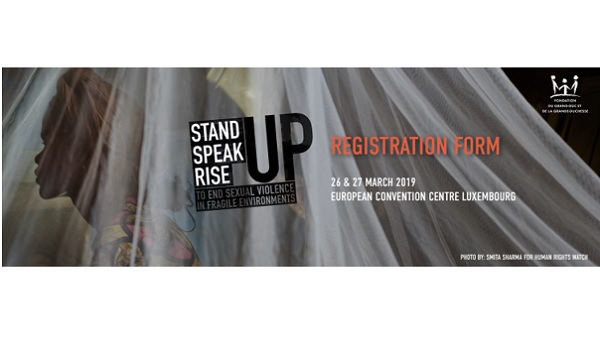 Details:
On the occasion of the "Stand Speak Rise Up!" international forum, an initiative of HRH the Grand Duchess, a gala evening entitled "Celebration of the Victory of the Survivors", will take place on Tuesday 26 March 2019 at 2030 at the Philharmonie in Luxembourg-Kirchberg, in the presence of the Grand-Ducal Couple and three Nobel Peace Prize winners.
This ceremony will pay tribute to all victims of war rapes and sexual violence in sensitive areas, represented by some fifty survivors from around the world.
This moment of recognition will be followed by a concert by the Luxembourg Philharmonic Orchestra, conducted by Gast Waltzing and accompanied by the singers Dobet Gnahoré and Morgane Ji.
The Grand Ducal Court is inviting member of the general public to attend the ceremony (free entry with prior registration). Interested persons can register via the website www.standspeakriseup.lu, by clicking on "Apply to Attend" and then completing the registration form "GALA". As the number of places is limited, invitations (two places per person) will be allocated on a first-come, first-served basis.
Venue: Philharmonie in Luxembourg-Kirchberg
Organiser: Stand Speak Rise Up
Price: n/a
Reservations: see website