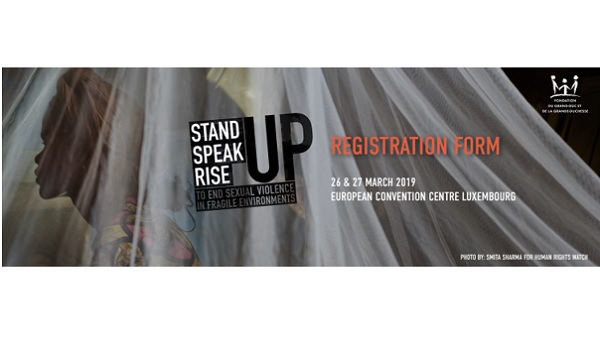 Details:
The European Convention Centre Luxembourg (ECCL) will be the venue for the "Stand Speak Rise Up!" international forum, an initiative of HRH the Grand Duchess, taking place on Tuesday 26 March 2019 from 1230 and on Wednesday 27 March 2019 from 0830, in the presence of HRH the Grand Duchess.
The forum is being held and will pay tribute to all victims of war rapes and sexual violence in sensitive areas, represented by some fifty survivors from around the world.
On the Tuesday evening, a gala concert by the Luxembourg Philharmonic Orchestra, conducted by Gast Waltzing and accompanied by the singers Dobet Gnahoré and Morgane Ji, will be held at Philharmonie in Luxembourg-Kirchberg.
For full details of the programme and registration details, see www.standandspeakriseup.lu.
Venue: European Convention Centre Luxembourg (ECCL)
Organiser: see above
Price: n/a
Reservations: see website