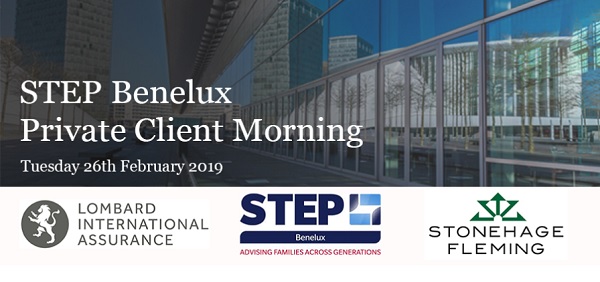 Details:
STEP BeNeLux has announced that it is holding a Private Client Morning on Tuesday 26 February 2019 from 0830 at La Table du Belvédère (Place de l'Europe in Luxembourg-Kirchberg) on the topic of "Building Tomorrow's Legacies".
Private wealth has a material impact on the world in which we live. It fuels the global economy. It funds innovation. It furthers charitable endeavours.
Wealth holders' primary concern is to build a legacy and see it preserved, protected and passed on, navigating the uncertainties of market conditions. For many, it is also important that their legacies leave a lasting impact, complementing the transfer of material wealth with the achievement of family, social and environmental objectives.
And as the New Year starts, uncertainty is everywhere with sustained geo-political instability impacting the markets including a Brexit deal still to be agreed; riots in France; changes to the leadership of Belgium and Sweden; and Eurosceptic governments in Italy and Austria, to name just a few.
Global economic indicators suggest there will be no let-up on the short term. In the long term, low interest rates, debt levels, a global shift in generations and the weight of technology bring in further question and concern.
This event will focus on what wealth holders should consider today to be able to build tomorrow's legacies.
Agenda

0830 - 0900 Welcome coffee & registration
0900 - 0910 Welcome speech by Paolo Panico, TEP, Chair of STEP Europe
0910-0930 Maurice Bauer, Secretary General - Luxembourg Stock Exchange (TBC)
- Market commentary
- Rise of impact investing
0930 - 1000 Matthew Fleming, Partner - Head of Family Governance & Succession - Stonehage Fleming
- The 4 pillars of family wealth
1000 - 1020 Tonika Hirdman, Director General - Fondation de Luxembourg
- Leaving a footprint through a philanthropic foundation
1020 - 1040 coffee break
- Building and protecting legacy through insurance
1110 - 1150 Panel discussion with all speakers and moderated by Paolo Panico
1150 - 1200 Conclusion by Louise Benjamin, TEP, Chair of STEP BeNeLux
1215 - 1330 Lunch & networking
Registration - click here.
Venue: La Table du Belvédère (Place de l'Europe in Luxembourg-Kirchberg)
Organiser: STEP BeNeLux
Price: see website
Reservations: see above