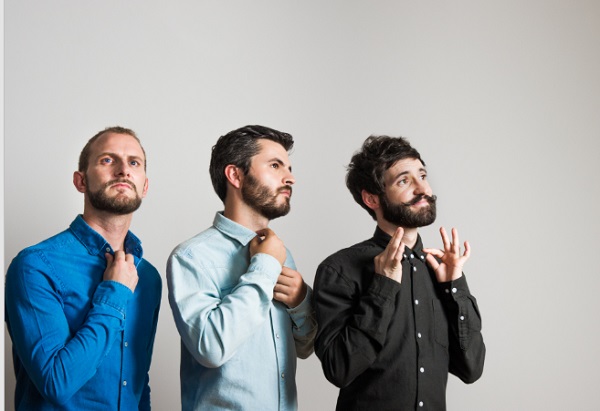 Details:
Winners of the 2012 International Percussion Competition in Luxembourg, Trio SR9, will perform at the CAPE in Ettelbruck on 14 February 2019 at 20:00.
The International Percussion Competition, on the occasion of its 30th anniversary, is collaborating with the CAPE to organise a concert from French Trio SR9, whose name is the abbreviation of Square Root of 9 in honour of the three members' science backgrounds. The winners of the 2012 edition will present their programme "Alors, on danse?" in which the game of marimba comes to reveal the spiritual, artistic or festive dance music. They add four other songs, including a first creation in Luxembourg by Florent Caron Darras and a piece using body percussion (without instrument) entitled "Ceci n'est pas une balle".
Founded in 2010 at the National Conservatory of Music of Lyon in the class of Jean Geoffroy and Henri-Charles Caget, Trio SR9 is made up of Alexandre Esperet, Nicolas Cousin and Paul Changarnier. As well as winning first prize in the Luxembourg International Trio Competition 2012, the band won the Lalux Public and Interpretation Awards during the same competition. Trio SR9 is also a laureate of the FNAPEC 2012 European Ensemble Music Competition and the Fondation Banque Populaire since 2016. They collaborate with artists from all backgrounds and explore other artistic fields such as dance and theatre, which they cross through interdisciplinary creations.
In October 2015, Trio SR9 released their first CD "BACH marimba" under the label Naïve. Their second album "Alors, on danse?" was released in March 2018. The trio has performed over a hundred times and regularly gives master classes.
Tickets cost €21, €10.50 (<26 years) or €1.50 with a Kulturpass and can be purchased via tel.: +352 2681 2681, email billetterie@cape.lu or online at www.cape.lu.
Venue: CAPE
Organiser: CAPE
Price: €21, €10.50 (<26 years) or €1.50 with a Kulturpass
Reservations: Tel.: +352 2681 2681, email billetterie@cape.lu or online at www.cape.lu