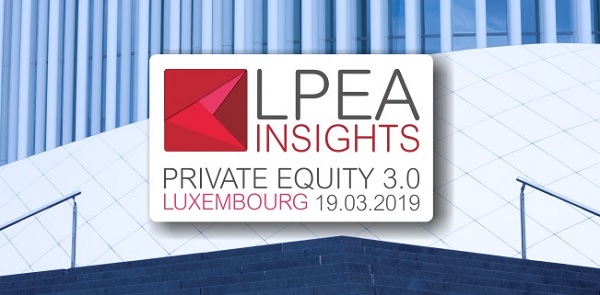 Details:
The Luxembourg Private Equity & Venture Capital Association (LPEA) has announced details of its LPEA Insights 2019 Conference, a half-day event taking place at the Philharmonie in Luxembourg-Kirchberg on 19 March 2019 from 1230 - 1900.
This year's edition is dedicated to the future of private equity or as many call it "Private Equity 3.0". From the financial engineering of leveraged buyouts (PE 1.0) to collaborating with management to improve efficiency and operational performance (PE 2.0), the future of private equity adds to traditional PE financial analysis and management disciplines, this approach combines comprehensive ESG due diligence, operational efficiency and environmental innovation to help transform businesses to create cleaner, more productive enterprises. The speakers include
- Pierre Gramegna, Luxembourg Minister of Finance
- H.S.H. Prince Max von und zu Liechtenstein, CEO of LGT
- Norbert Becker, Chairman of Atoz, CBP Quilvest and Lombard International
- Lindsey McMurray, Managing Director, Pollen Street Capital
- Dominique Gaillard, CEO of ARDIAN France
- Larry Aschebrook, Founder and Managing Partner of G Squared
… among many others.
For details, see https//www.lpea.lu/insights2019
Venue: Philharmonie in Luxembourg-Kirchberg
Organiser: Luxembourg Private Equity & Venture Capital Association (LPEA)
Price: see website
Reservations: see website