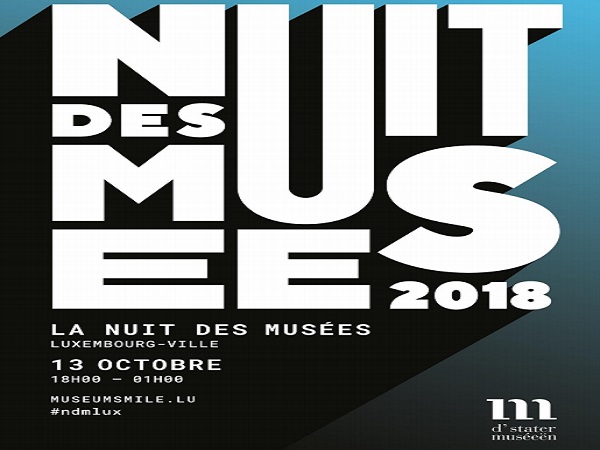 Details:
The 18th edition of the annual "Nuit des Musées", under the theme of "collections", is taking place on Saturday 13 October 2018 from 18:00-01:00 across Luxembourg City.
As usual, the seven city museums will open their doors at night for this year's Nuit des Musées, which has become an unmissable annual event for culture and heritage enthusiasts in Luxembourg since its first edition in 2001.
As in previous years, a rich programme of events around collections and temporary exhibitions has been put together, including special guided tours, workshops for children and adults, performances, lectures, film screenings, DJ nights and more. Each museum will also offer a culinary surprise.
In line with the European Year of Cultural Heritage, the theme of this year's Nuit des Musée is collections. In this context, the museums have given a "carte blanche" to Anna Katina, independent photographer and passionate blogger, to create a virtual collection of the Nuit des Musées on Instagram.
The "virtual collection" project is a collection of impressions from participating museums that project the viewer into the event's atmosphere to spark interest and show that an exhibition is not limited to the collections displayed. Behind each exhibition, there is manual work, a montage and a choice, accompanied by reflections. In the end, these images will form an exciting mosaic of views representing the museums within the City of Luxembourg.
Once again each museum will also offer a "favourite" visit, with those in charge of the collections playing museum guide for the night and offering visitors a participative visit and offering a different perspective of a place of exhibition, a time, character or object.
Nuit des Musées is organised jointly by the City museums: Mudam Luxembourg, Dräi Eechelen, National Museum of Natural History, Casino Luxembourg, National Museum of History and Art, Lëtzebuerg City Museum and Villa Vauban.
Whilst most museums will close at 01:00, the Mudam will remain open until 03:00 on this occasion.
Presale tickets (available from 17 September to 12 October 2018) cost €12 for adults, €5 for 16-26 year olds or €1.50 for Kulturpass holders. Entry is free for children under 16 years of age. These tickets can be purchased from the participating museums, the Luxembourg City Tourist Office or on the national ticket portal luxembourgticket.lu. Tickets purchased on the evening will cost €15 for adults, €7 for 16-26 year olds or €1.50 with a Kulturpass.
A free shuttle will be provided between the museums in the city centre and Glacis car park, from where the tram will bring visitors to the Kirchberg museums.
The complete programme of the Nuit des Musées and further information are available on the website www.museumsmile.lu.
Venue: Luxembourg City museums
Organiser: Luxembourg City museums
Price: Presale €12 adults, €5 16-26 year olds, €1.50 Kulturpass; on the night €15 adults, €7 16-26 year olds, €1.50 Kulturpass
Reservations: At participating museums; Luxembourg City Tourist Office; luxembourgticket.lu