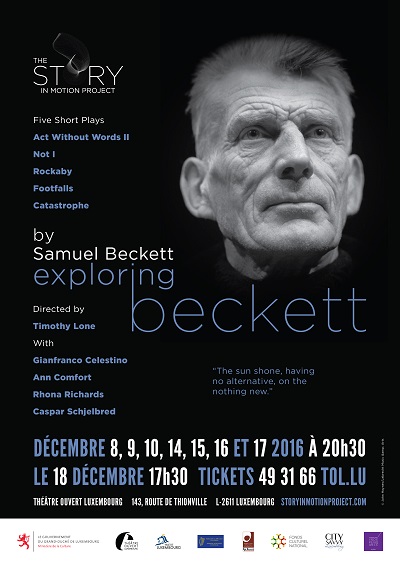 Details:
Details:  The Story In Motion Project has announced that it will end the year with a production including five short plays by celebrated Nobel Prize winner Samuel Beckett, presented at the Théâtre Ouvert Luxembourg: Act Without Words II, Not I, Rockaby, Footfalls and Catastrophe.
Directed by Timothy Lone, Exploring Beckett brings together an international cast featuring Gianfranco Celestino, Ann Comfort, Rhona Richards and Caspar Schjelbred.
"The Story in Motion Project theatre company began out of experiments in physical and vocal improvisation" said director Timothy Lone. "These exquisite short plays by Samuel Beckett specifically emphasize speech and/or movement. These unique plays are a wonderful vehicle for performers; dancer Gianfranco Celestino, actor and mime artist Caspar Schjelbred, and two accomplished (local) British stage actresses, Ann Comfort and Rhona Richards."
 
Samuel Beckett, who was awarded the Nobel Prize for Literature in 1969, is one of the towering figures of 20th century writing. Countless playwrights acknowledge their debt to his challenging and innovative work, among them Edward Albee, Harold Pinter, Tom Stoppard and David Mamet. When contemporary playwright Will Eno was asked when Beckett's plays would become irrelevant, he answered: "When people stop dying".
Samuel Beckett's writing extends the possibilities of drama and fiction in unprecedented ways, bringing to the theatre an acute awareness of the absurdity of human existence – our desperate search for meaning, and the gulf between our desires and the language in which they find expression.
Exploring Beckett presents five of the writer's most influential short plays:
Act Without Words II - A mime with two protagonists exposes the absurdity of the routines of life.
Not I - A woman who has been virtually mute since childhood suddenly begins to tell her story of abandonment and of a life lived in loveless, mechanical isolation.
Rockaby - An elderly woman listens to her memories as she slowly rocks towards death.
Footfalls - A woman paces obsessively back and forth whilst she speaks with her dying mother.  
Catastrophe - A theatre director and his assistant put the finishing touches to his magnum opus.
Exploring Beckett is being performed on 8, 9, 10, 14, 15, 16 and 17 December at 20:30, and 18 December at 17:30, at the Théâtre Ouvert Luxembourg (143 Route de Thionville, L-2611 Luxembourg-Bonnevoie).
Venue: Théâtre Ouvert Luxembourg (143 Route de Thionville, L-2611 Luxembourg-Bonnevoie).
Organiser: The Story in Motion Project theatre company
Price: Tickets cost €20 and €8 reduced.
Reservations:  To reserve your tickets, tel: 493166 or online at www.tol.lu  or www.storyinmotionproject.com

URL: 
Info: 
Price: 0
Reservations: 0