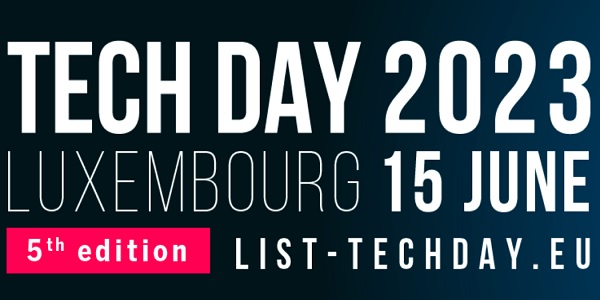 Details:
The fifth edition of the Luxembourg Institute of Science and Technology (LIST)'s Tech Day is taking place in Esch-Belval on Thursday 15 June 2023.
Visitors to the Maison des Arts et des Étudiants on the University of Luxembourg's Belval campus will have the opportunity to discover the future of innovation and technology at LIST's key institutional event, as well as network with industry leaders and researchers, listen to keynote speeches and get hands-on experience with the latest and most advanced technologies, as researchers showcase their innovations and services.
More details are available online at https://www.list-techday.eu/.
Venue: Maison des Arts et des Étudiants, Esch-Belval
Organiser: LIST
Price: n/a
Reservations: See website
URL: For details, see https://www.list-techday.eu/