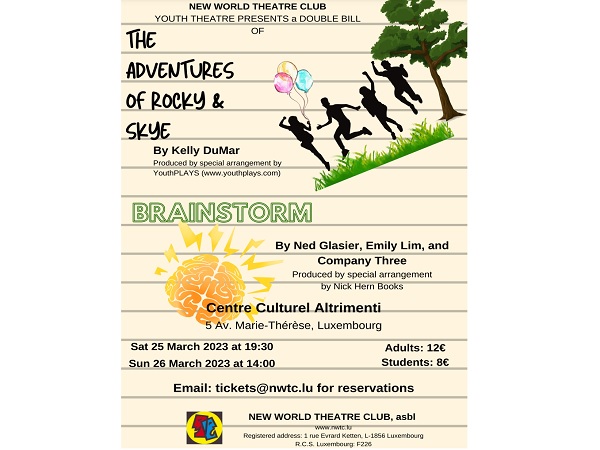 Details:
New World Theatre Club (NWTC) asbl will present its "Youth Theatre Double Bill" at Centre Culturel Altrimenti in Luxembourg-Ville on Saturday 25 March 2023 at 19:30 and on Sunday 26 March 2023 at 14:00.
The Adventures of Rocky & Skye by Kelly DuMar follows four friends through their childhood in fifteen short, often humorous scenes. Brainstorm by Ned Glasier, Emily LIm and Company Three is a semi-devised piece that offers an immersive look at the adolescent brain. Through improvisation, writing and acting workshops, the participating children finalised the play, based on a "blue-print" of the script.
Both plays will be performed on both days with a fifteen to 20-minute intermission between them. They are open to audiences of all ages.
Tickets cost €12 for adults and €8 for students and are available via email: tickets@nwtc.lu.
Venue: Centre Culturel Altrimenti (5 Avenue Marie-Thérèse, 2132 Luxembourg)
Organiser: NWTC
Price: See above
Reservations: See above