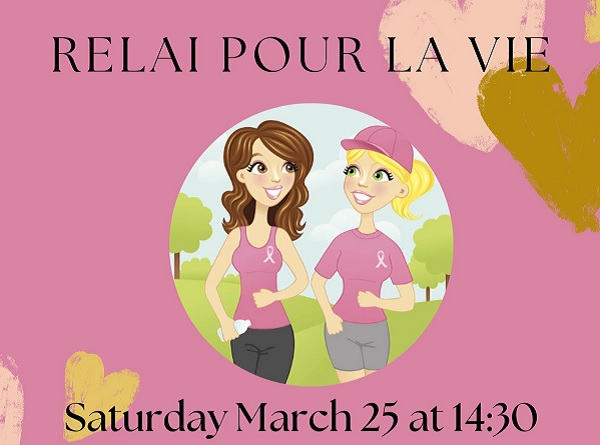 Details:
Think Pink Luxembourg is once again taking part in "Relai Pour La Vie" supporting the Foundation Cancer; this year it will be walking on Saturday 25 March 2023 in the Bambesch forest at Bridel, with a 14:30 start.
The distance being walked is approximately 6km, with the starting/assembly point next to the Juegdschlass (400 rue des Sept Arpents, L-1149 Luxembourg).
The participation fee per person is €15, payable in cash or via payconique. Other possibilities for financially supporting this initiative include sponsoring a walker or making a donation (see www.thinkpinklux.com/donate-1).
The walk is open to everyone, including well-behaved dogs (though they must be kept on a leash), with participants encouraged to bring some "pink" to the walk, maybe on one's tshirt, hairband or even a tutu! After the walk, Think Pink Luxembourg will be offering some drinks and afternoon tea.
Those interested in participating are asked to let Think Pink Luxembourg know by email: thinkpinklux@gmail.com
See http://thinkpinklux.com/ for further details.
Think Pink Luxembourg is a Luxembourg-registered ASBL formed in October 2009 by a small group of volunteers whose lives have been touched by cancer either directly or through their families and friends. The purpose is simple: to support women living in Luxembourg with the day to day reality of cancer
Venue: See Aboive
Organiser: Think Pink Luxembourg
Price: See above
Reservations: See above