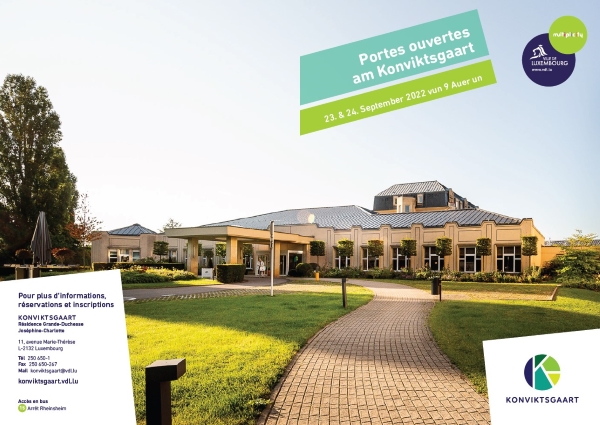 Details:
On Friday 23 and Saturday 24 September 2022, the Grand Duchess Joséphine-Charlotte, also known as the Konviktsgaart, in collaboration with the City of Luxembourg (Ville de Luxembourg - VdL), will be holding open days from 09:00 onwards.
Located at 11, Avenue Marie-Thérèse, a quiet, green and secure setting and a few minutes from the city centre and in the immediate vicinity of a bus stop, the Konviktsgaart consists of 103 accommodations and seven "short stay" rooms (holiday beds) for people aged over 65. It also offers a multitude of related services, such as a restaurant, cafeteria, grocery store, hairdresser, bank teller, library, laundry room and underground parking. The offer is completed by the weekly celebration of a mass in the Konviktsgaart chapel, gentle exercise and dance classes for the elderly and regular activities and outings (concerts, cultural, convivial and culinary encounters) organised within the House.
Guided tours and lunches on 23 and 24 September
Throughout the day, guided tours will take place in Luxembourgish and French. For people who cannot attend the open days, a virtual tour of the residence is available online via www.konviktsgaart.vdl.lu.
The Residence will offers lunch in the lounge (hot buffet) at €16, excluding drinks.
Additional events
On Friday 23 September at 14:10, conference: Dr Marie-Paule Theisen, psychologist and gerontologist, will give a presentation on the benefits of mindfulness. French translation is available on request in advance.
On Saturday 24 September at 14:10, literary afternoon: author Jhemp Hoscheit will present his new novel "Tëschent den Zeilen".
Practical arrangements
Registration is compulsory for the guided tours, lunch, conference and literary reading via tel.: 250 650-1 (between 15:00 and 20:00)
Sanitary measures

Mandatory wearing of face mask
Compliance with the sanitary measures in force
Rapid antigenic self-tests available at reception (on-site recommended)
Venue: Konviktsgaart, 11, Avenue Marie-Thérèse, L-2132 Luxembourg
Organiser: Konviktsgaart, VdL
Price: see above
Reservations: see above