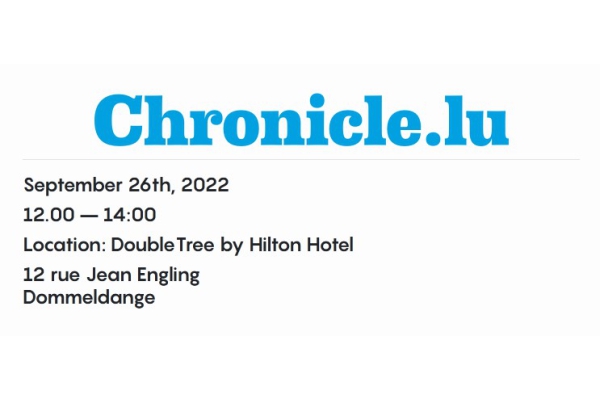 Details:
The American Chamber of Commerce in Luxembourg (AMCHAM) is organising a luncheon event at DoubleTree by Hilton Hotel in Dommeldange on Monday 26 September 2022 at 12:00.
The event commemorating tenth anniversary of Chronicle.lu, a Luxembourg-based English-language online newspaper, includes a presentation by Geoff Thomson on G-Media and Chronicle.lu.
Launched in 2012 by Geoff Thompson, it involved setting up a company (G-Media sarl), developing a business plan and investing; earlier this year, the company received confirmation that it met the criteria for the Aide à la Presse, financial support offered by the Luxembourg government, a significant milestone.
Geoff has now taken early retirement, with the company in the capable hands of Jazmin Campbell whom he appointed CEO in 2021. At this AMCHAM luncheon, Geoff will present details of the company formation, the launch of the online newspaper, its business model, and how they handled IT outsourcing, staffing / recruitment, plus administration; and also their focus on the business and social communities.
The event can accommodate up to 50 guests. Tickets are available at €52 per person, includes lunch and free parking, for online purchase from 9 to 23 September 2022.
For further information, including registration details: https://www.amcham.lu/events/chronicle-lu-10th-anniversary/.
Venue: DoubleTree by Hilton Hotel , 12 Rue Jean Engling, Dommeldange
Organiser: AMCHAM
Price: see above
Reservations: see above