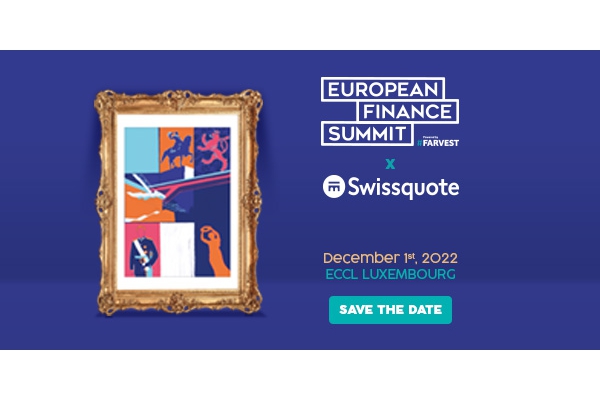 Details:
The next edition of the European Finance Summit, organised by Farvest, is taking place on Thursday 1 December 2022 at the European Convention Center Luxembourg (ECCL), from 08:00 to 19:00.
This flagship event will offer a day of conferences, exhibition, networking moments, a silent auction and the fourteenth edition of the Luxembourg Finance Awards.
The European Finance Summit is a gathering for financial professionals to share their best practices, analyse international financial markets and trends and review the relationships between fintech and regtech. It gives participants the opportunity to build strategic roadmaps in terms of tax, treasury and compliance reporting, go in depth with current asset management, funds, (private) banking, treasury and regulation topics.
This event is organised in partnership with Swissquote.
Tickets are available online here.
Venue: European Convention Center Luxembourg (4 Place de l'Europe, 1499 Luxembourg)
Organiser: Farvest; Swissquote
Price: See website
Reservations: See website
URL: For details, see https://www.europeanfinancesummit.com/?utm_source=sendinblue&utm_campaign=20221117-efs-eml&utm_medium=email