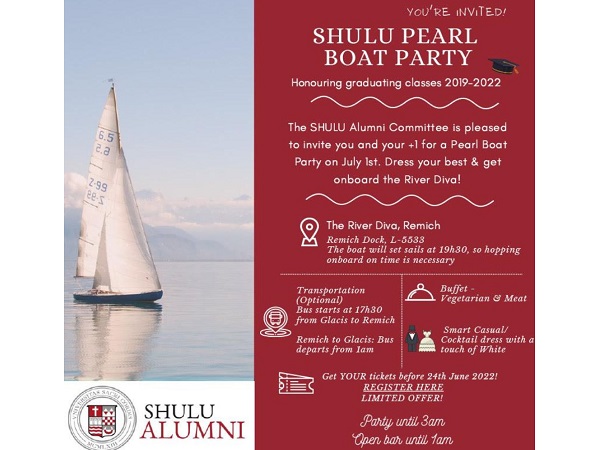 Details:
The SHULU Alumni Association is organising a "SHULU Pearl Boat Party" for the Sacred Heart University Luxembourg community on Friday 1 July 2022.
Apart from celebrating the graduating classes of 2019-2022, who did not participate in an official graduating ceremony due to the recent decision to close the SHULU campus, the main aim of this party is to bring the whole SHULU family together once again to reenforce the importance of networking in Luxembourg.
The entire SHULU community is invited to attend this free event, including students, graduates, alumni, faculty, staff and board members.
Attendees should arrive from 18:30, as the boat leaves port in Remich for a three-hour Moselle river tour at 19:30 sharp.
Registration is open (exclusively to the SHULU community) until noon on Monday 27 June 2022 via the following link: https://www.eventbrite.com/e/shulu-pearl-boat-party-tickets-353235616237
Attendees can also avail of transportation facilities from Glacis in Luxembourg-Limperstberg to Remich and back. Buses will start at 17:45 from Glacis, with one bus returning every hour between 23:00 and 03:00.
Venue: Navitours, Quai de la Moselle, L-5553 Remich
Organiser: SHULU Alumni Association
Price: Free (SHULU community only)
Reservations: See website
URL: For details, see https://www.eventbrite.com/e/shulu-pearl-boat-party-tickets-353235616237