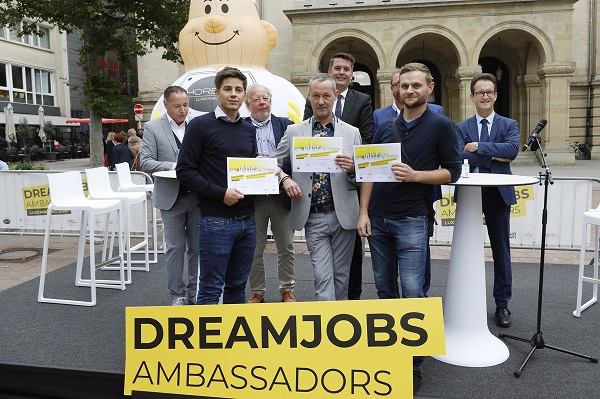 Credit: brain&more
Luxembourg-based communications agency brain&more has announced the winners of the "Dreamjobs Ambassadors" campaign for the hospitality sector.
The Dreamjobs Ambassadors 2020 awards ceremony took place last Thursday in Place d'Armes in Luxembourg-Ville, in the presence of Lex Delles, Luxembourg's Minister for Small and Medium-Sized Enterprises, Carlo Thelen, Director General of the Luxembourg Chamber of Commerce, and Alain Rix, President of Horesca asbl.
Of the nine finalists who competed in two categories, "cook" and "bartender / waiter", three candidates were crowned this year's Dreamjobs Ambassadors.
Launched in November 2019 by the national hotel and catering federation HORESCA and the Luxembourg Chamber of Commerce, in partnership with the Ministry of the Economy and the Ministry of Education, Children and Youth, the Dreamjobs Ambassadors campaign aims to promote, enhance and honour the talent of professions within the hotel and catering industry in Luxembourg.
This competition awards the most talented candidate in each of the two categories "cook" and "bartender / waiter". This is a unique opportunity for both establishments and kitchen and dining staff to showcase their know-how, thereby benefiting from personal recognition and standing out from the competition. In addition, thanks to the wide media coverage of the event, candidates showcase the entire industry, help recruit talent and generate vocations.
The pre-selection was based on a two-minute video presentation of each of the finalists, in action and "within their walls". Each candidate had time to explain their profession, review their career, present their achievements and describe their present and future motivations.
Instead of selecting two winning candidates, the jury was unable to decide between chefs Clovis Degrave and Ben Weber, who jointly won the "cook" category. Both winners will also embark on a trip to Dubai on the occasion of the Universal Exhibition. In the "bartenders / waiters" category, Sébastien Dzieziuk won the prize and will fly to the United Arab Emirates.
A consolation prize awaited all the finalists, who received a porcelain service from RAK Porcelaine Europe and an assortment of Domaines Vinsmoselle wines from the sponsors.
Winners
Owner and chef of the Hostellerie du Grünewald, Clovis Degrave took over the establishment at the age of 27 after spending six years on the "benches" of a hotel school.
Ben Weber has been at the head of the kitchen at the Gudde Kascht restaurant in Haller for ten years. He trained as a cook at the Ecole d'Hôtellerie et de Tourisme du Luxembourg.
Sébastien Dzieziuk has been room manager at Bistrot Parc Belair since 2002. Above all, he enjoys contact with customers and their recognition. He described his profession as "one of the most beautiful in the world".