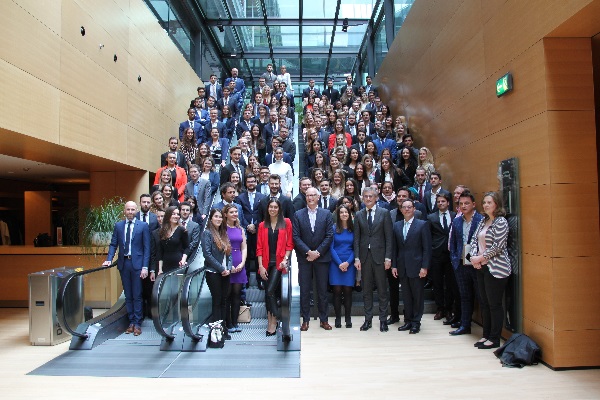 Credit: MJUS
On Tuesday 30 April 2019, 151 individuals received their certificates for successfully completing additional classes in Luxembourg law (CCDL).
The complementary courses in Luxembourg have a theoretical period of six months, during which students are familiarised with the specificities of Luxembourg law. The offer is specific for Luxembourg as a result of the fact that university degree holders who underwent a full law school course did not receive a thorough education in Luxembourg law.
The certificate, demonstrating that the individual has obtained proficiency in the CCDL, is a prerequisite for admission into professions in the field, such as lawyers, notaries and bailiffs.
Minister of Justice Félix Braz presented the 151 successful individuals (out of 426 candidates) with their CCDL certificates for the first session of 2018/2019. These were:
AALALA Samir; ABDELLI Nora; ALSINA Alvaro; ALVES DA SILVA Stephanie; AMEKE ÉP. PORT Hanou Elom Mirinda-Marc; ATANGANA OMGBA Fabien; BAKOVIC Elma; BAZAANI Asmae; BEKA Donjeta; BERNAT Alexia; BIHAIN Bénédicte; BLANCHARD Théo; BORDAGE Romain; BOSSELER Guillaume; BOUKADA Inès Aïcha; BRAUN Valérie; BÜCHLER Michèle; CAHOUA Charles; CALMES Sophie; CAROLLO Alessandro; CEKICI Yunus; CHAOUCHE Fatima; CHARTON Graziella; CHOULAK Locif; CLEMEN Michelle; CUCOVIC Haris; CZEKAJ Arkadiusz; DAHAN Benjamin; DAMILOT Hugues; DANS Harrison; D'ASPREMONT LYNDEN DE MAILLEN Amélie; DE RON Stephen; DELINTE Céline; DIMMER Laurent; DOOMS Allan; DU PUY DE CLINCHAMPS Aldric; DUBOIS Jérôme; DUVAL Mélanie; DVORATCHEK Cédric; ENNASIRI Nassime; ERPELDING Bob; EXALL Oliver; FALKENBERG Lars; FELTES Jessica; FERREIRA Victor; FERREIRA GOMES Lilia do Céu; FIORITO Andréa; FOULQUIER Thomas; FRANÇOIS Fabien; FRANSSEN Elisabeth; FRITZ Maximilian; FURTADO Lucy; GAMMAITONI Gaëlle; GATA Corentin; GEORGE Pierre; GIGLIO Julien; GLESS Pauline; GOFFIOUL Quentin; GOFFLO Morgane; GORDET Levina; GRACI Sarah; GROS Pierre Vincent Antoine; GUSENBURGER Ben; HAMDAOUI Magdi; HATAMI Davoud; HAVARD Alysson; HOFFMANN Anne Alice Paule; HUNT Victoria; ILLY Yvan; JAHIC Jasmin; JEANVOINE Estelle; JOLLY Loren; JOST Claude; KARAMEMIS Ilhami; KOENNER Florence; KOLAÏ Yamina; KOOB Claire; LALLART Thérèse; LE PAPE Victor; LEBEAUX Lucile; LEININGER Pierre; LENERS Max; LENTZ Patrick; LIESCH Daniel; LINDECKER Mégane; LUDWIG Laura; MAJERUS Alex; MARTEL Delphine; MARTINELLI Enzo; MASCIOCCHI Camille; MASQUELIER Audrey; MASSOP Rabie Lydie; MATHE Silindia; MAZZA Alessandra; MENDES MACEDO Joe; MERTEN Martine; MERZ Agnès; MICHALSKA Martyna; MOHAMAD Darina Anna; MOREL Madeline; MULLA Lawène; MULLER Conny; NIEZGODA Céline; NORIE Allison; NOTEBAERT Victoria; NTSA Paulin Serge; OLLER Filip; PAOLUCCI Alessandro; PERROS Victoria; PÉTRÉ Julien; PETTINGER Fernand; PIRON Adrien; PLETSCH Sam; POELS Cyril; POGLIANI Matteo; QEDIRA Tisem; QUIAIOS DINIS Joana; QUINN Chloé Alexandra; RAMRAMI Zineb; RASTODER Minella; RENEL Cedric; RENOUARD Laure-Hélène; ROBERT Julien; ROZYCKA Martyna; RUGIRA Norbert; SCHMITT Claire; SCHROEDER Luis Mario; SCIANCALEPORE Silvia; SEDJA Sandy; SIJOU Edith; SIMON Julie; SIMON Beverly; SIOHAN Olga; SOUCHON Romain; SULEJMANI Adnand; SZYMONIAK Agata Beata; TEIXEIRA MARTINS Katia Sofia; TEKLAK Piotr; THIERCÉ Maxime; TIBERI Edoardo; TURJMAN Clément; VAN ROSSUM Cindy; VOISARD Axel; WEBER Eric; WERLER Romain; WINKEL Anthony; WIRTZ Guillaume; WIRTZLER Pauline; WOURWOUKAS Ariane; ZIANI Fatim-Zohra; ZOUKHAIEV Lalita.