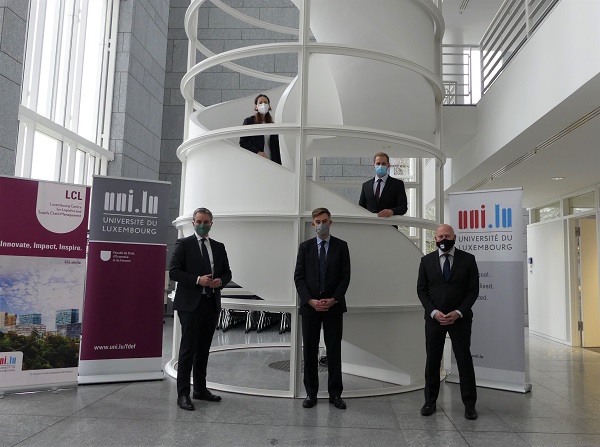 Digital Procurement announcement; Credit: © University of Luxembourg
On Tuesday 1 December 2020, the University of Luxembourg and Luxembourg's Ministry of the Economy announced the creation of an academic Chair in Digital Procurement: the Chair will be hosted at the University's Centre for Logistics and Supply Chain Management (LCL) of the Faculty of Law, Economics and Finance and will train Master students in the use of new technologies and computer science in procurement.
The Chair aims to implement a forward-thinking academic programme, encompassing the study of new technologies for procurement and research in digital procurement. Responding directly to the needs of the market to create a Procurement Excellence Platform in Luxembourg, the project is supported by the CPO (Chief Procurement Officer) Club, an organisation composed of CPOs from 7 leading companies (Amazon, ArcelorMittal, Delphi, Ferrero, Leaseplan, SES and Vodaphone) who have based their regional or procurement hubs in Luxembourg.
Two-phase roll out
The Chair in Digital Procurement will be rolled out in two phases. In the first phase, a Digital Procurement module will be added to the Master of Logistics and Supply Chain Management study programme for the 2020-2021 academic year. In the second phase, digital procurement is envisioned as a specialisation within this Master beginning in the 2021-2022 academic year. The study programme will partner students with interested companies to pursue research projects in the field of procurement with special emphasis on the impact of new technologies such as artificial intelligence, machine learning and blockchain.
The Chairholder is Nils Löhndorf, Associate Professor at the LCL. He teaches courses in analytical methods and data science as well as decision-making under uncertainty. His research interests are in stochastic optimisation with applications in operational risk management, in particular renewable energy production and storage as well as energy procurement. "A designated Chair that works hand-in-hand with CPOs of international cooperation with headquarters in Luxembourg is a unique opportunity to attract talent into the country and establish a centre of excellence for digital procurement at the University of Luxembourg," said Prof. Löhndorf.
The agreement was signed by the Luxembourg minister of the Economy Franz Fayot, Yves Elsen, chairman of the University's board of governors and Prof. Stéphane Pallage, rector of the University. The Chair in Digital Procurement is established for an initial period of four years and is co-financed by the Ministry of the Economy.
Connecting the dots in the chain
Luxembourg offers a unique combination of factors that have encouraged the creation of this Chair such as the presence of high-profile companies with procurement-related activities, the CPO Club, the logistics pillar of the economy, the LCL, and the digital strategy embraced by the government.
"The University implements the new Chair with enthusiasm," said Stéphane Pallage. "Optimising procurement and the related logistics is a rewarding challenge in the current global business environment, and we are proud to help strengthen the local logistics sector, one of the pillars of economic diversification, through our research and teaching."
"Since its creation four years ago, in collaboration with the MIT (Massachusetts Institute of Technology), the LCL has established itself as a leading hub for logistics and supply chain, featuring a high-profile master program, attracting numerous partners for research projects, and securing academic excellence awards," explained Prof. Benny Mantin, director of the LCL. "Recently, the Centre has demonstrated its immense value in the task force during the pandemic crisis, by working closely with health professionals to facilitate supply of essential medical items, and by studying resilience of supply chains."
The minister of the Economy Franz Fayot declared "By training skilled experts in a specific domain, the Chair in Digital Procurement reinforces the dynamism and the positive development of Luxembourg as a logistics and supply chain hub. With the advent of digitalisation and new technologies, the procurement function is indeed considered as strategic for the management of a company's supply chain."
The minister for Higher Education and Research Claude Meisch added "With the creation of the Centre for Logistics and Supply Chain Management in 2015, the University anticipated the needs of the economic sector and since then it has clearly shown that it can meet, through skills development in the field of logistics, the requirements in the supply sector."