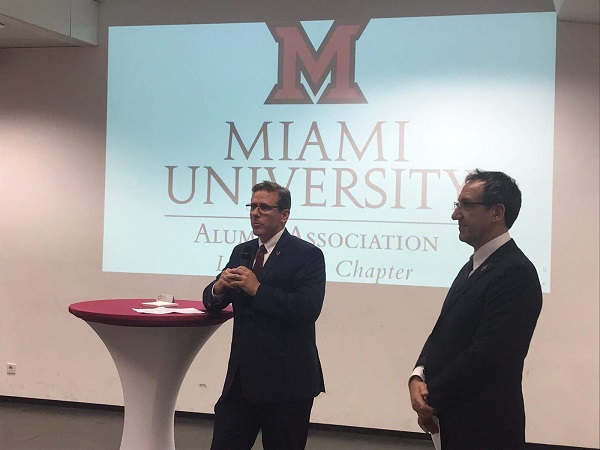 (L-R) Jason Osborne, Provost at Miami University, and Thierry Leterre, Dean at MUDEC, at the MUDEC alumni reception at LHoFT; Credit: Geoff Thompson
The Miami University John E. Dolibois European Center (MUDEC), located in Differdange, has announced the partner companies of the new Luxembourg Digital Innovation Center (LDI) internship programme.
With the LDI internship programme now in full swing, the MUDEC has announced that the following companies will be offering internships to the initial cohort of students: Birdee; City Savvy Luxembourg; Media Concept Factory; Explose; L'essentiel (Edita S.A.); Kelsey Hopper Services; Neopixl; ONE group solutions; The Outdoor Journal; Refinitiv; Société Générale; Talkwalker; Techcyte Europe.
The LDI programme is a partnership between the Miami University Emerging Technology in Design and Business department, the Institute for Entrepreneurship and MUDEC. Students from all majors who have experience in digital marketing, interactive media studies or web application development are eligible to apply. Students work in their internships four days per week, with one day reserved for company visits and networking events. The students also work together as a team on a capstone project for one company.
Thierry Leterre, Dean of MUDEC, commented: "It goes without saying that this programme would not be happening without the support and commitment from our partner companies. We are excited to have a first cohort of students, whose majors range from Emerging Technology in Business and Design and Marketing to Journalism and Information Systems, interning in these companies".
Bertrand Kauffmann, Digital Transformation Leader at Société Générale, added: "At Société Générale, we are proud to take part in the first international Digital Innovation Programme in Luxembourg. We are glad to welcome an American trainee who will, no doubt, give a positive and fresh impetus to our transformation".
Similarly, David Renoux, Managing Director at Neopixl, commented: "It is with great pleasure that we welcome students from the programme, both culturally and professionally speaking. Miami University students clearly have the digital skills expected by agencies such as Neopixl".
Earlier in the year, on the evening of Wednesday 15 January 2020, the MUDEC hosted a celebratory reception at the House of Startups for its Luxembourg Alumni, both Luxembourg nationals who have studied at Miami University in Ohio as well as US students who spent a semester in Luxembourg. Over 60 guests attended the event, the formal part of which was introduced and moderated by Thierry Leterre and also involved short presentations by George Lentz, President of MUDEC Alumni, Jason Osborne, Provost of Miami University in Ohio, Nasir Zubairi, CEO at LHoFT, and Dan Eischen, CEO at Concept Factory which is one of the companies receiving an intern from MUDEC this year. A networking reception followed the formal part of the event.