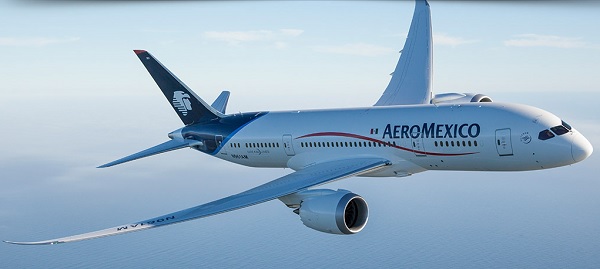 As of 1 January 2018, a change in management has taken place for Aeromexico for the BeLux region.
Belgium and Luxemburg, previously represented by Inter GSA, have now become part of Aeromexico´s commercial team in The Netherlands. This new structure follows the successful introduction of Aeromexico´s direct flight between Amsterdam and Mexico City, which took place one and a half years ago, starting with three direct flights per week. In June 2016, the airline increased its offer to a daily direct flight between both countries, operated with the Boeing 787-8 and Boeing 787-9 Dreamliner. Aeromexico and KLM have a codeshare agreement on the Brussels – Amsterdam route, which allows passengers to connect with the direct flight Amsterdam – Mexico City, offering a better service and connectivity to clients.
"I started being part of Aeromexico´s team in August 2017, but before that I worked as a Sales Manager Benelux for LOT Polish Airlines. During that time I gained valuable experience in the Belgian & Luxembourg market which will certainly be very useful in my new role as Benelux Country Manager for Aeromexico, and I am looking forward to meeting all partners again and pleased with the new challenges and responsibilities that comes with this." said Mark Mooren – Country Manager for Aeromexico in The Benelux region.
Aeromexico continues to strengthen its presence in The Netherlands and reaffirm its commitment to further improve connectivity and relations between Mexico and Europe with enhanced travel experiences and increased air connectivity.
Aeromexico Call Centre (from 09:00 – 22:00) BELUX: +31-800-022-4008 (Press 7 for the option to be serviced in English or French) or email: amcallcenternl@aeromexico.com
Aeromexico, Mexico´s global airline, operates more than 600 daily flights and its main hub is in Terminal 2 at the Mexico City International Airport. Its destinations network features more than 80 cities on three continents, including 44 destinations in Mexico, 23 in the United States, 15 in Latin America, 4 in Canada, 4 in Europe, and 3 in Asia.
The Group's operating fleet of more than 125 aircraft is comprised of Boeing 787, 777 and 737 jet airliners and next generation Embraer 170 and 190 models. In 2012, the airline announced the most significant investment strategy in aviation history in Mexico, to purchase 100 Boeing aircraft including 90 MAX B737 jet airliners and 10 B787-9 Dreamliners.