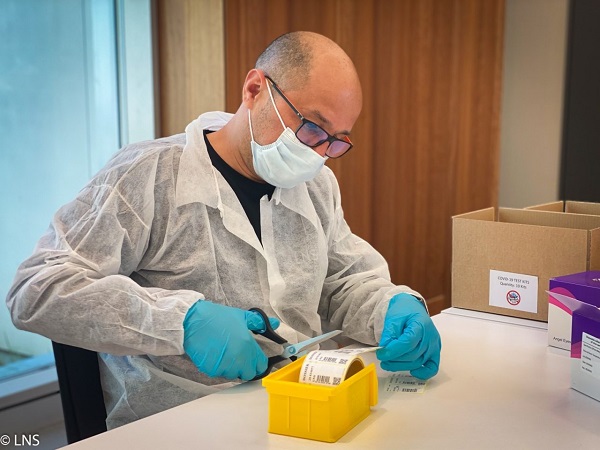 Credit: LNS
Luxembourg's Ministry of Mobility and Public Works, together with Lux-Airport, have announced that, as and from Saturday 2 January 2021, in addition to PCR tests, rapid antigenic tests will be offered to all passengers arriving at Luxembourg airport.
These new tests will be aimed primarily at travellers returning from holiday destinations.
Upon arrival at Luxembourg airport, all passengers will receive a voucher for a COVID-19 test which can be used from 2 January either for a PCR test or at a new rapid test station (inside the airport). After a rapid nasopharyngeal test, passengers can immediately leave the airport and will receive the result within 3 hours by SMS. If a test is positive, the passenger will be informed within 3 hours by the authorities.
The new COVID-19 testing service is voluntary and free-of-charge. It aims to complement the PCR test offered at the airport for arriving passengers since May 2020 and thus creates an additional and rapid testing offer. Passengers will be informed during their flights by airlines about the two test offers.
The current participation rate for the PCR test at Findel is currently 30%. With the additional quick test, a higher participation is expected, especially during peak hours and high passenger traffic.
The PCR test station is located at the exit of the arrival hall, while the new rapid test station has been installed at the current exit of the departure hall. It is operated in collaboration with the National Laboratory for Health. The opening hours of the test stations are adapted to flight plans so that all arriving passengers can use the service.