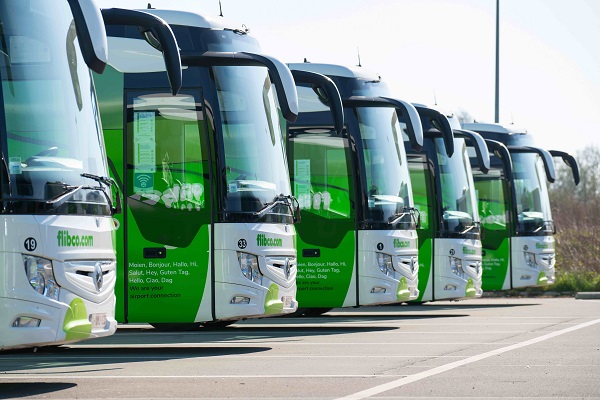 Credit: flibco.com
Luxembourg shuttle bus company flibco has announced the resumption of its shuttle service between Brussels South Charleroi Airport and the city centre of Brussels from 1 July 2020.
Flibco's buses will once again connect Charleroi Airport to downtown Brussels from this Wednesday. This follows the resumption of the company's Door2Gate shuttle service on 16 June 2020 after the COVID-19-related confinement period.
With the travel industry entering a new era, new security measures have been implemented on flibco buses to guarantee the health and safety of passengers. These include the mandatory wearing of masks or other form of face protection, entry into the bus exclusively through the rear door, contactless tickets for passenger safety and the availability of hand sanitiser the entrance of each bus. Moreover, toilets will be closed temporarily for security reasons and buses will be thoroughly cleaned and disinfected daily.
In addition, flibco have introduced 32 new Mercedes Tourismos buses. Paul de Muynck, Director of flibco Belgium, commented: "At flibco.com, we are delighted to be able to welcome passengers again, on board our new buses! We are aware that everyone aspires to a return to normalcy. At flibco.com, we make it a point of honor to offer passengers a safe and secure journey to their destination, with a whole new fleet!"
Indeed, the new flibco buses have been equipped to ensure passenger comfort and safety. Passengers can now stay connected during their journey thanks to free Wi-Fi access. In addition, a USB port on each seat allows travellers to charge their phone at any time.