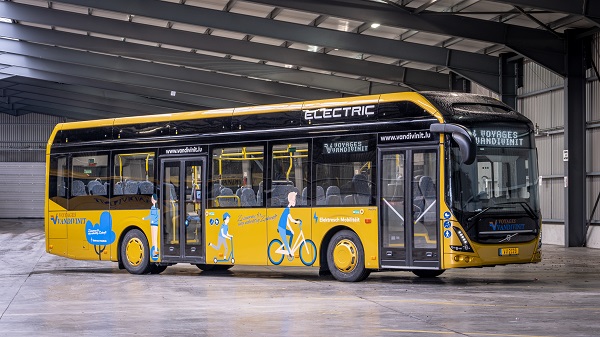 Luxembourg travel bus company Voyages Vandivinit has received five 100% electric buses from Volvo which will operate between Mondorf and Remich.
Voyage Vandivinit, a family business operating on the Moselle for three generations, has decided to shift to electromobility. To do this, it obtained five Volvo 7900 12m electric buses. These buses are the company's first 100% electric buses. They will be in operation among others between Mondorf and Remich.
These 12m buses can accommodate up to 90 passengers snf are equipped with a 200 kWh battery with a range of approximately 130km. To recharge these buses, Vandivinit installed an Oppcharge rapid charging station at its depot. This recharging mode is carried out using a pantograph which descends onto the bus and which, by contact using rails, allows the bus to be recharged within a few minutes. This station can deliver up to 450 kW. In addition, the company installed six Combo2-type night chargers.
In order to celebrate the launch of its zero-emission buses, Voyages Vandivinit has created a whole new design for its vehicles: "Elektresch Mobilitéit: Zesumme fir eng nohalteg Zukunft!" (Electromobility: together for a sustainable future).
Laurent Bravetti, Director of Volvo Bus Luxembourg, commented: "We are delighted to start a new partnership with Voyages Vandivinit through this first delivery of 100% electric buses. These are the first zero-emission buses to circulate in the Moselle region, one of the jewels of Luxembourg tourism. These buses offer reliability never before attained in the world of electric buses. We are also pleased with the choice of an Oppcharge station to quickly recharge our buses. Today, no less than 11 stations of this type have been deployed in Luxembourg. This makes it a true national standard for rapid bus charging. We are particularly pleased to begin this collaboration with Voyages Vandivinit".