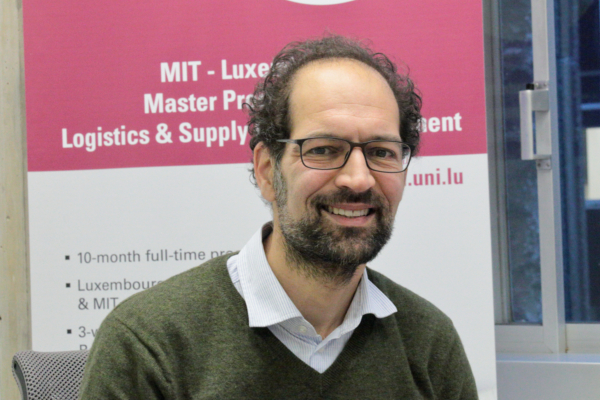 Prof. Benny Mantin, Director of Luxembourg Centre for Logistics and Supply Chain Management (LCL), University of Luxembourg; Credit: Kangkan Halder
On Thursday 9 December 2021, Prof. Benny Mantin, Director of the Luxembourg Centre for Logistics and Supply Chain Management (LCL) at the University of Luxembourg, shared his views with Chronicle.lu on Luxembourg's logistics and supply chain players, the effects of European Union (EU) green initiatives and future opportunities and challenges for the sector.
The LCL was founded in December 2015 and Prof. Mantin joined as Director in January 2017. He helped shape the LCL's mandate of education, research and outreach as three intertwined pillars and, talking to Chronicle.lu, expressed prive over the high rates of student placements and research publications in internationally recognised journals. Amazon, Exxon, Cargolux, Consultation companies and others are amongst the few who benefit from both new graduates in the logistics and supply chain field and research collaborations with LCL.
Highlighting the importance of the supply chain, Prof. Mantin explained that all the products in stores and supermarkets nowadays are produced, procured, packed, transported, assembled, distributed and warehoused from around the world in an exceptionally fast and efficient environment.
Prof. Mantin emphasised that logistics is a versatile and agile sector, one which is in need of continuous innovation and improvements to keep the goods and products flowing around the world from producers and suppliers to the end customers.
Luxembourg, in this context, is geographically well placed in the heart of Europe and has immense potential to grow as a key logistics hub, affirmed Prof. Mantin.
According to a report by the European Commission, transport emissions represent up to 25% of the EU's total greenhouse gas (GHG) emissions; the Commission will strive to reduce 90% of transport-related greenhouse gas emissions by 2050. Prof. Mantin welcomed the Commission's resolution and targets for green initiatives but cautioned that it would require "forced transparency". He elaborated that fully transparent supply and procurement details across the whole transport and supply sector would be needed to optimise and reduce GHG emissions. Prof. Mantin also advocated for yearly targets to be implemented under the EU green initiatives with a clear road map to achieve the climate resolutions, which is not yet available.
Taking stock of reducing emissions in the rail, automotive, maritime and aviation sectors, Prof. Mantin underscored the need to factor in "life cycle costs" during procurement and investments. He argued that the big projects with multi-billion investments require careful deliberations in terms of the total carbon footprint throughout the life-cycle and not only the short-term needs.
Discussing the proposals for zero-emission large aircrafts to be available by 2035 under the European Green Deal, Prof. Mantin agreed on its feasibility in short-haul, both in terms of air-passengers and air-cargo but remained sceptical of practical solutions in long-haul destinations for the time being.
The transport and mobility sector employs around ten million people in the EU and reflecting on the consequences on employment because of the European Green Deal, Prof. Mantin foresees further consolidation leading to bigger and faster players in the transport sector. However, he emphasised that it raises "great opportunities for disruption", as well.
In parallel, Prof. Mantin looked at the A380 jumbo jet, which once claimed to change the aviation sector by simply flying large volumes on high traffic routes, but did not materialise as planned. He said bigger consolidations would also mean massive bottlenecks, if disruptions occur. Therefore, he stated that reducing employment as a factor of consolidation has probably reached its capacity and would not further reduce employment, instead stressing the need for agile support to increase employment in the transport sector overall.
Further talking about the automation of the logistics sector, Prof. Mantin suggested that warehousing has a lot of room for improvement and that "platoon driving", where the lead-vehicle is manned and the convoy behind could possibly be automated, given that dedicated lanes are provided on road, would also help minimise long haul driver shortages.
In terms of freight, Luxembourg's CFL multimodal, a logistics service provider covering the entire logistics chain, reported having transported 2.3 billion tonnes-km of merchandise in 2020. Prof. Mantin noted the lack of harmonisation across Europe, which is a bottleneck. He cited the different electrification grids, track widths, regulation on languages (drivers needed to know the local language), limitations on the number of cars per freight train as some of the few hurdles which need pan-European solutions to improve capacity and efficiency.
Focusing on time-constrained e-commerce deliveries like food, groceries, parcels, etc., large fleets of delivery vehicles were deployed in the bigger cities. Normally a few customers are served on a single route and vehicle capacity is underutilised in most cases, so there is potential for economic and environmental optimisations. Prof. Mantin mentioned that there is a major shift in customer mindset with "speed deliveries". He suggested that prediction models, resource availability and opportunity-costs are constantly changing and that logistics and supply managers need to continuously evaluate and evolve their strategies.
In this context, Prof. Mantin also discussed his research interest in game theory. He said that this is used for supply chain modelling for various purposes. He explained the levels of players in a supply chain, most often an asset provider and a freight provider, who work hand-in-hand and need to secure capacity in a cost-effective way. This is done in anticipation of demand and inventory status. Using game theory-based modelling, trade-offs like booking over capacity or underestimating the demand can be avoided.
In his concluding remarks, Prof. Mantin said that the amount of choice available to customers now is phenomenal and retailers are afraid that "empty shelves" will scare their customers away. Therefore, there is the perpetual need for optimisation in inventories and shifts in choices. This need to "keep the shelves stacked" also creates waste by default. Prof. Mantin also emphasised that customers should know the origin of products to have a more ecologically conscious choice.