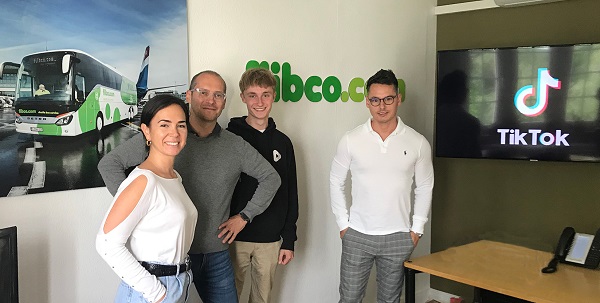 TikTok and Flibco meet in Luxembourg;
Flibco have announced that representatives of TikTok have made their first official visit to Luxembourg in which Charles Bahr, Strategic Partner Manager at Tik Tok, met with representatives of Flibco.com at its headquarters to discuss how to use their platform to promote the Luxembourg brand throughout Europe.
The flibco.com account has also become the first Luxembourg page to be officially verified by TikTok. This was made possible thanks to the originality of the content posted on TikTok and the fact that Flibco is one of the first Luxembourg brands to use this social network to communicate with its customers.
During the meeting, it emerged that the two brands are very much in sync as far as communication style and target audience are concerned. Flibco.com is a service used predominantly by users aged between 18 and 35 years, and appreciates the spontaneity and creativity of the range of content on this new platform dedicated to the sharing of short videos.
Tobias Stüber, CEO of Flibco.com, was very satisfied with this initial meeting and commented: "We like to innovate in all our activities and therefore also in our manner of communicating. That's why we are excited to test this new form of communication and to position ourselves even closer to our customers."
Charles Bahr also presented data demonstrating the exponential global diffusion of TikTok, which already includes more than 100,000 active users in Luxembourg. More meetings are set to take place in the future and Flibco.com will continue to develop its presence on TikTok, producing creative content with a view to interacting with its customers in a modern way and encouraging the mobility industry to try out new forms of communication.